I can't review July's Birchbox for you guys yet because I never got it. I got the shipping notice, but the tracking info never updated and my box never showed up. I sent in an email letting them know, and they told me this: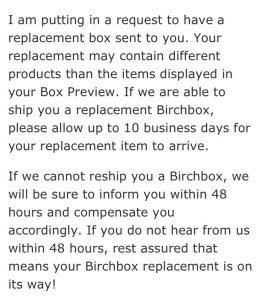 Mmmmm….'kay? So, I never got another email back, and our money was never refunded. I *guess* that means I should get another box; but I never got a new tracking number either.  I'm also not super happy with being told I was going to get a bunch of different stuff. I don't know what that means! Leftovers? Junk drawer detritus?
That was on 7/23, and I haven't seen anything yet. 10 business days will be next Tuesday, so see you (by) next Tuesday, Birchbox! I hope!
I'll keep you guys updated on this crisis as it continues to unfold.
BIRCHBOX WATCH 2013: MISSING BIRCHBOX: THE STORM OF THE CENTURY ON THE ROAD TO THE WHITE HOUSE: THREAT LEVEL MIDNIGHT