This was the eye look I did on Saturday night before we went out to a party.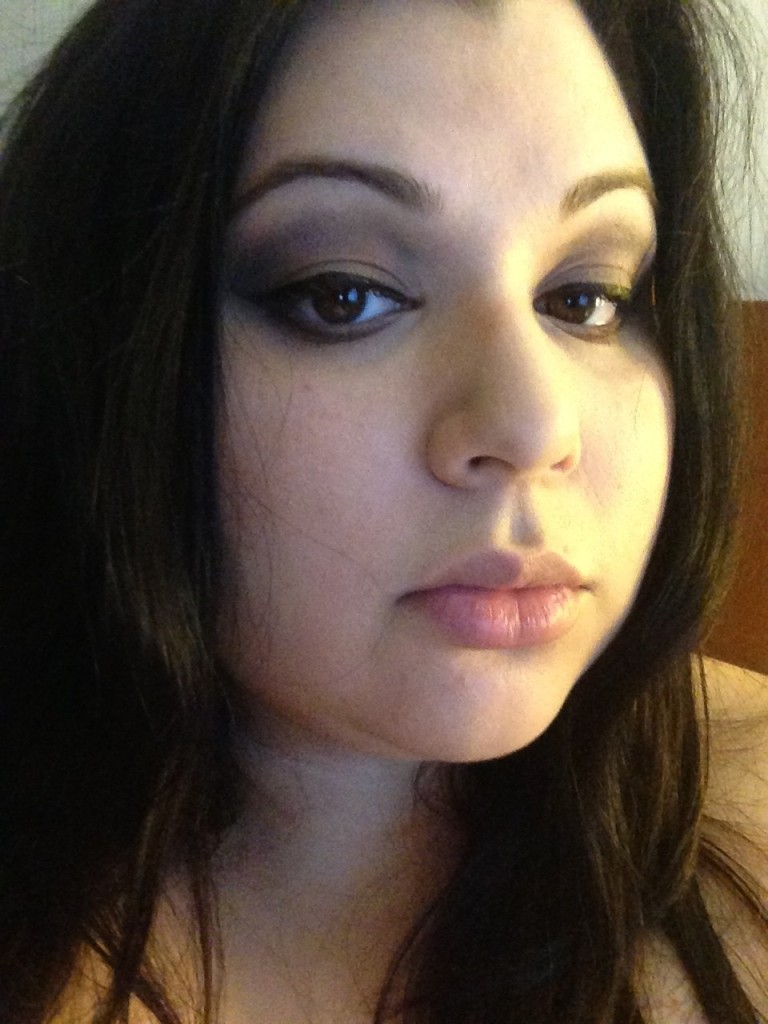 With the exception of my Stila liquid liner, my mascara, and my white highlight liner, I used all Urban Decay products.
First, I applied UD's Primer Potion in Eden to my entire lid up to my eyebrows. Second, I used "KINKY" (matte nude) from UD's Smoked Eyeshadow Palette over my lid to the crease. Third, I used an angled brush to apply "GUNMETAL" (dark grey) from UD's original Naked Palette to the area a little above my crease and down to the outer corners, connecting in a "V" to my upper lash line. If you want to make your eyes look bigger, creating a false crease a little higher than your actual crease is a way to do it. Third, I used a fluffy brush to wash "TEASE" (taupe) from UD's Naked 2 Palette over my entire lid, up to the dark grey crease, blending the edges as you go. Then, I picked up a little more of my matte nude color on my fluffy brush, and blended the outer edges of the grey crease. Last, I used "BOOTYCALL" (frosty white-beige) from the Naked 2 Palette to accentuate my brow bone, always blending.
I lined my upper lash line and water line with "WHISKEY' (dark brown) from UD's 24/7 Double-Ended Glide-On Pencil, then I lined below my bottom lashes to about 3/4 across, leaving the area near my tear ducts, unlined. I went over the top line and created a winged line with my black Stila liner. Then, I used a white liner to line my bottom water line to also give the appearance of bigger eyes. I finished it off with my They're Real mascara from Benefit on my top lashes only.
Since this look uses dark colors, I did my eyes before I did my foundation. That way, you can clean up any fallout you have and sharpen up any edges you'd like to define with your foundation brush. I'm not wearing it in this picture, but I did a nude lip.
Add a bun and giant earrings, and you've got yourself a look!
Sorry the photo quality isn't great. I wasn't taking pictures to put up here, I was taking pictures to check the blending and symmetry. Remember in "Clueless" when Cher takes Polaroids of all her outfits because she doesn't trust mirrors? It's like that. Plus, I was showing off and sending pics to my sister. Shame on me! PSYCH! I'm not ashamed.