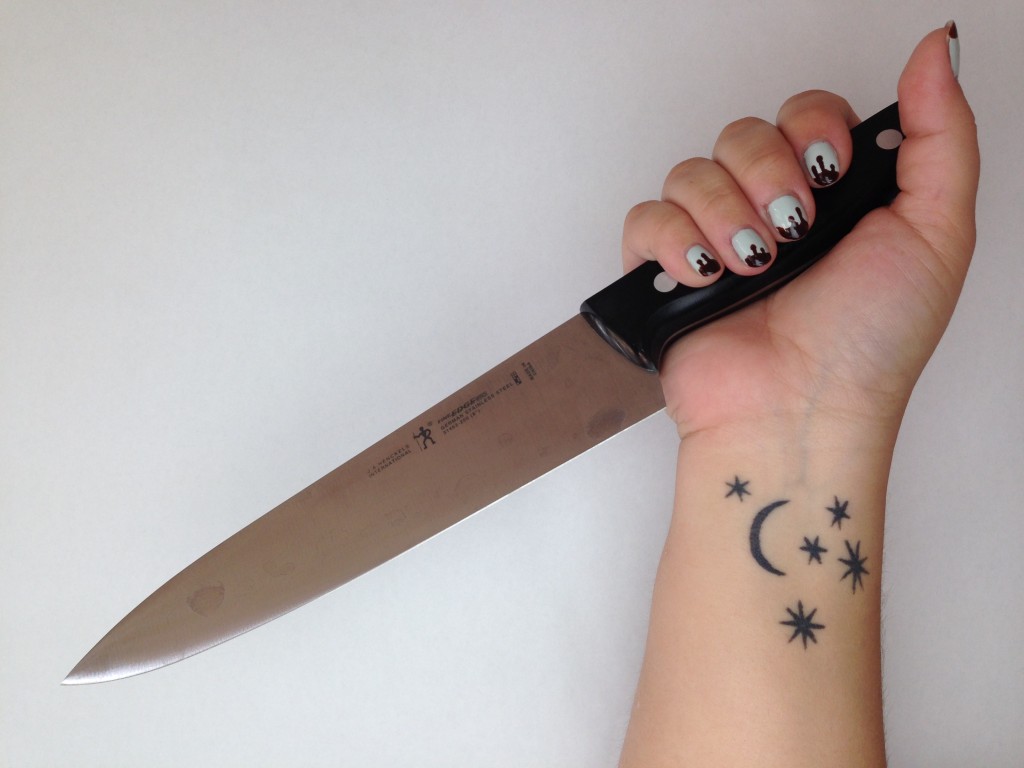 Water spots on my knife! THE HORROR…THE HORROR…
Happy Halloween, BOOS!!
Is everyone ready for tonight? We are! I went to Target yesterday and bought a giant bag of 425 pieces of Wonka candy. I thought I was being smart by buying candy we wouldn't eat, but that plan backfired when I found out there was no such thing as candy we wouldn't eat. Oh well! If the trick or treaters want a shot at anything besides banana Laffy Taffy, they should start showing up NOW. I can't guarantee the Sweet Tarts will make it to nightfall.
In the spirit of the season, I decided to go outside my usual nail zone and add a little gore to my digits. Floss Gloss inspired me on Instagram, and I used this tutorial from Honestly WTF to learn how to do the bloody drips. It's not as hard as it looks, but it takes a minute. I sat at the table for half an hour doing the tips without even realizing it.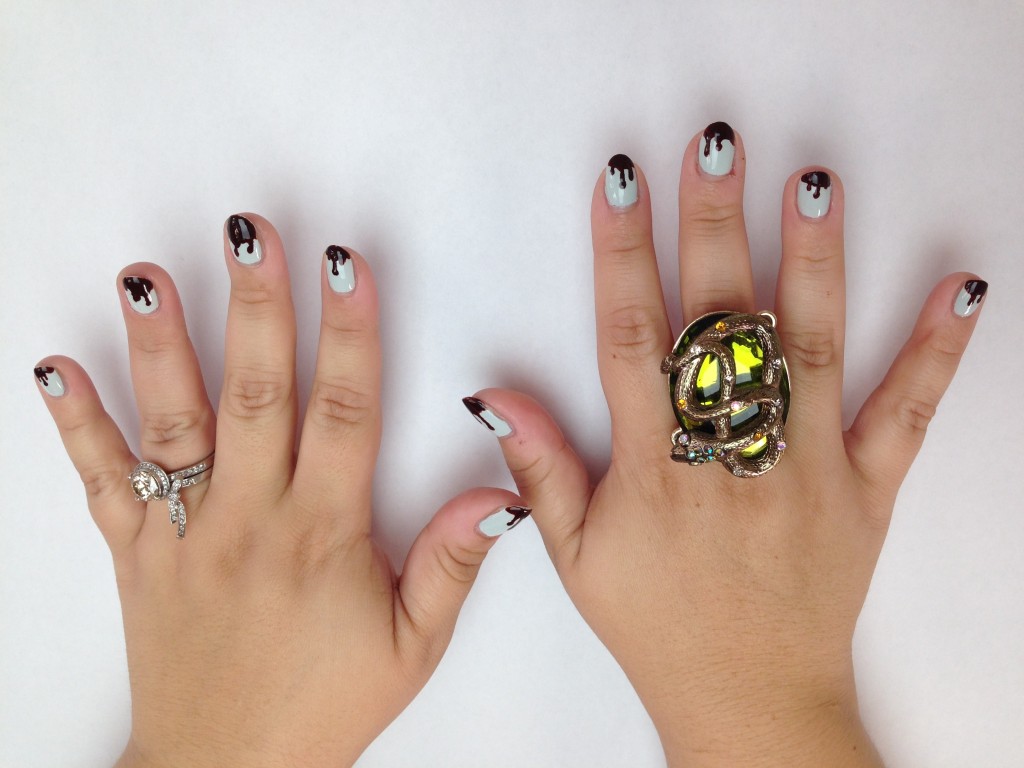 Weirdly, the hand I painted with my dominant hand sort of got away from me. But, that's something cool about this look, if you fuck it up, it's kind of hard to tell.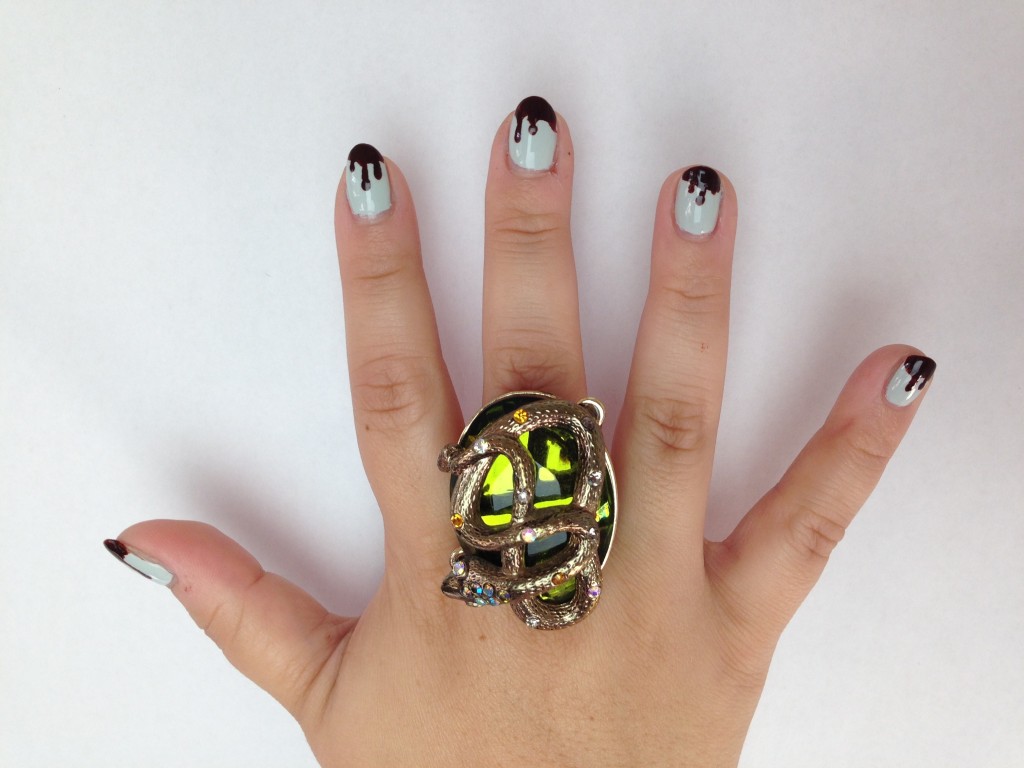 Floss Gloss' Moon Baby and Blood, Suede & Tears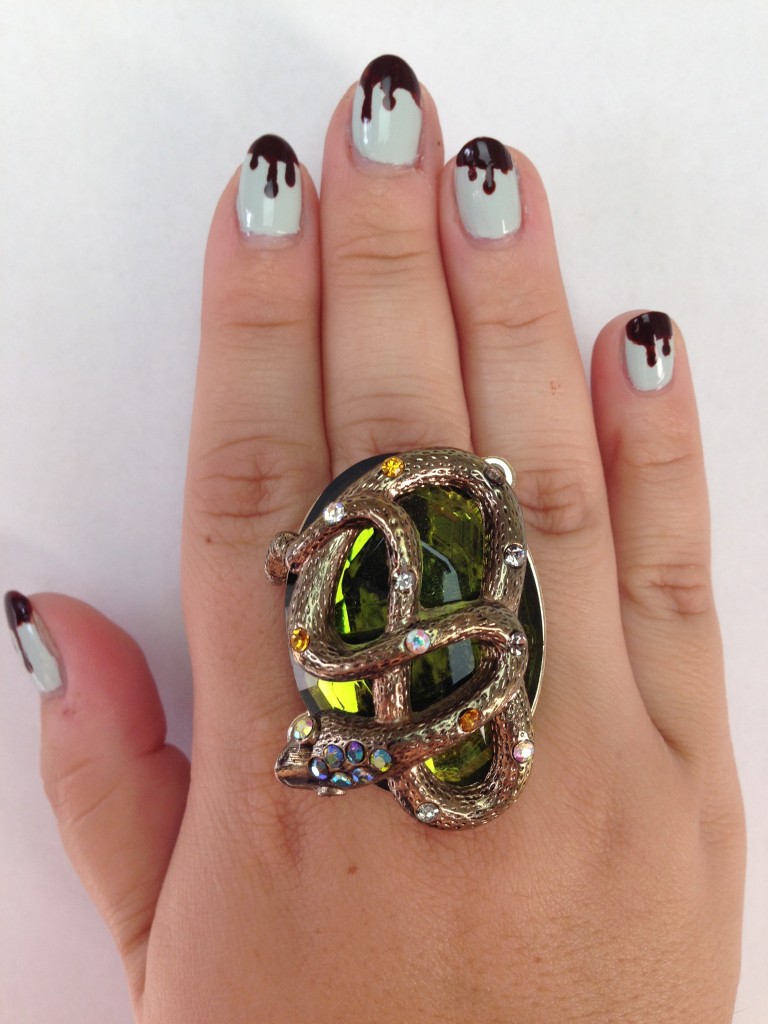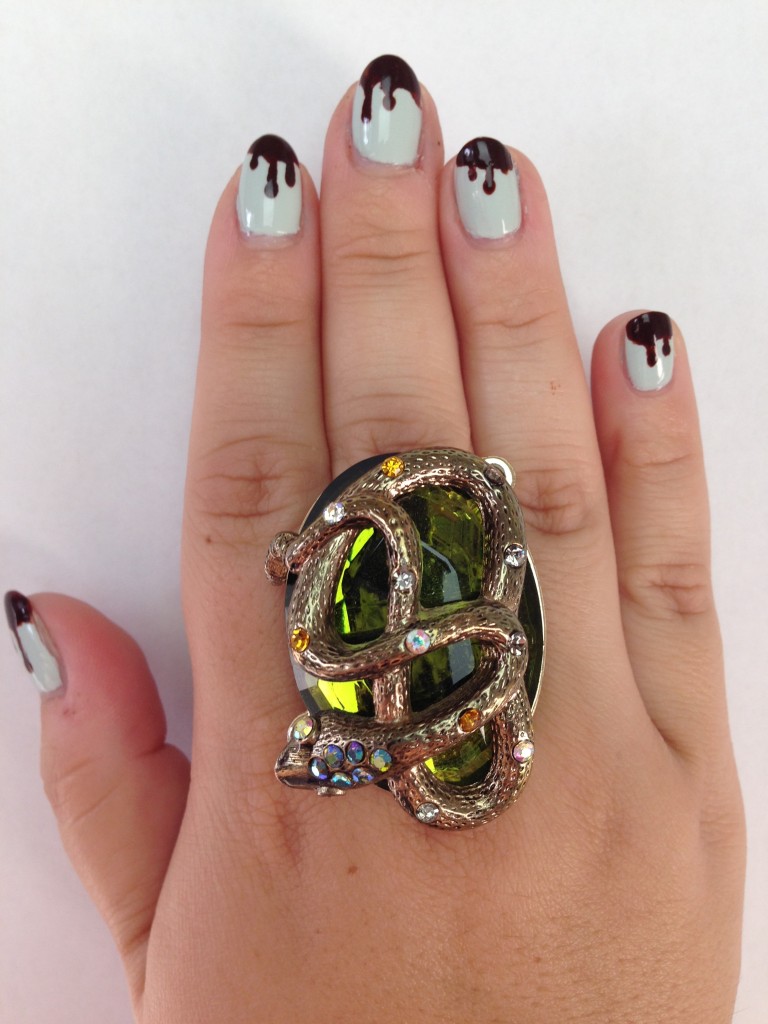 I used all Floss Gloss colors for this look; Moon Baby for the base, and Blood, Suede & Tears for the tips. Such an awesome combination! Moon Baby is a gorgeous icy background, and Blood, Suede & Tears couldn't look more like dried blood. PERFECT!!!
The tutorial explained the art really well. I used little puddles of polish on a paper plate and a bunch of toothpicks to make the process a little easier. Two things about doing this nail art that are important though: One, wait until your base color is COMPLETELY dry. If you don't, you'll make a huge mess. Two, when you draw the lines that connect the blood drop to the nail tip, don't apply pressure to your toothpick. The line won't come out, you'll split the polish right up the center. Lightly drag the tip of the toothpick instead of actively drawing with it. I learned that one after struggling with the first nail.
The tips were actually sort of a mess when I was done, but, thanks to my Seche Vite top coat, you can't tell. That top coat is really the best. Besides its super fast drying time, the formula smoothes and covers a multitude of sins. Clumps, streaks, uneven edges, all fixed by my top coat.
I'm pretty proud of myself for attempting something new that could have very easily ended with my fingers a giant mess. I guess it could have gone either way, trick or treat. Luckily, it ended up being a treat! I love my festive nails right now!
Enjoy the day, ghouls and boys! Since I can't give you candy through your screens, please enjoy these sonic Halloween ear treats.
http://youtu.be/ChlW283_33s
http://youtu.be/u3hisYcaL1E
Buy Moon Baby and Blood, Suede & Tears HERE.