Good skin has always come pretty easy for me. Fat ass? Yes. Ugly armpits? The struggle. Do my nail beds suck? I guess. But, the good skin was there, so I was lucky.
Lucky until the year of my 30th birthday.
All of a sudden, my face flipped on me. I had big, gross, scaly dry patches on my cheeks, a pimply forehead and overall dull skin. It looked terrible. I was a monster. I ran through tons of different skincare lines trying to clear up my garbage face before finally caving and buying a Clarisonic. The Clarisonic was an expensive dream come true! It worked so well, I really felt like it was going to be the key to everything.
*Cue my legendary laziness*
It's soooo fucking hard to remember to take that thing into the shower with me! And that was back when we only had one bathroom. Now, the Clarisonic lives on a counter in one bathroom, but I shower in the other bathroom. The bathroom with the dumb pedestal sink and no counter space. (P.S. Pedestal sinks are fucking stupid.) So, I've been relegated to using the Clarisonic maybe once a week, if I would remember to grab it before I got in the shower. The Clarisonic doesn't do much if you don't use it like you're supposed to; that's pretty much the point of the thing. So, my pimple forehead and zitty nose were back in full effect. Until…UNTIL, I discovered this little Pore Cleansing Pad from Sephora.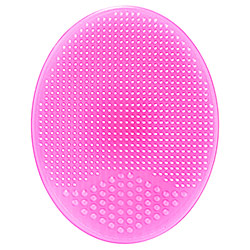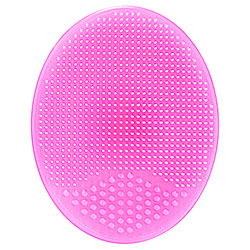 I LOVE THIS THING! Use it in circular motions with your face wash, and the little bristles gently scrub out all your makeup, sweat, and whatever other questionable things you might have on your face. It's small enough to live on a ledge in my shower, it works great, it's gentle enough to use every day, and it only costs FIVE DOLLARS. Five freaking dollars! Plus, since it's silicone, it can be disinfected. That's a big draw for me because it's only a matter of time before I drop it, bristles down, onto the shower floor where I pee on my own dirty feet, just like Madonna.
I bought one for Jason and his terrible man skin too, and he looks like a not flaky, clear pored motherfucking angel now. We all look like angels! I've been using this about 5-6 days a week, with my Clarisonic the other 1 or 2 days, for about 3 weeks, and it has made a huge difference. My skin is smoother, my deep seated forehead pimples are clearing up, and my tone is starting to even out. I love this thing so much; I really, really want Sephora to make a big one so I can use it to scrub my whole body. It's my beauty product dream right now. Really. I stand in the shower, scrubbing my nose with the little pad, and think about how great it would be to use an oven mitt sized pad to scrub my cellulite. BIG DREAMS.
I can not recommend this beauty tool enough. To me, it's a reasonable replacement for a Clarisonic if you don't want to drop $120 on an exfoliating brush. Get one! Hell, get five! It's almost summer, that means lots of makeup free face time. Get your skin ready now!