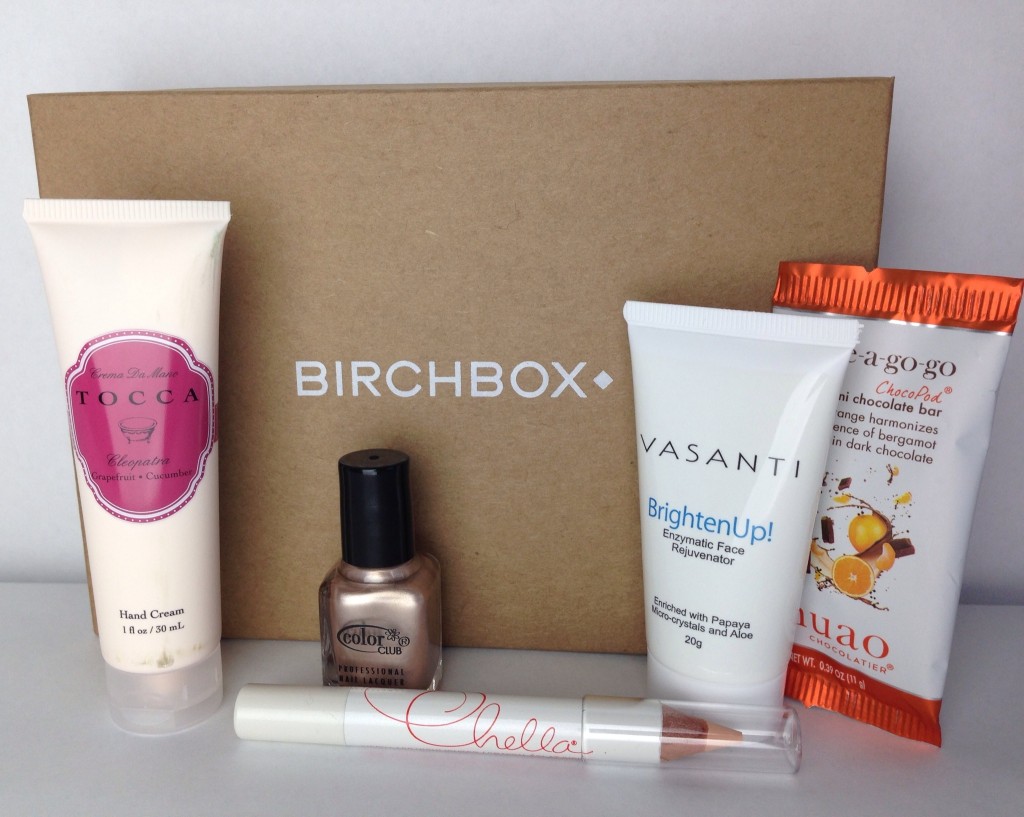 REAL TALK: I took photos of this month's Birchbox much faster than usual because it had a snack in it. I mean, I was on it with a quickness. Never mind that I just got rid of all the leftover Halloween candy. This is WAAAY better than picked over Whoppers.
So, my November box was already in it to win it with the inclusion of food. And things only got better from there!
TOCCA Crema da Mano in Cleopatra
What they said: Loaded with natural oils, this grapefruit and cucumber lotion absorbs in a flash.
What I say: This hand cream is already out on the coffee table as my new "house lotion." I'm a sucker for all things Cleo, and I love a nicely scented grapefruit product. It smells wonderful, and it moisturizes nicely without leaving any greasiness or weirdness behind.
Color Club polish in Top Shelf
What they said: From the new Cocktail Hour Collecion, this shimmering shade give nails a gorgeous glint.
What I say: I do not understand why I keep getting polish in this color! What's with the rose gold obsession, Birchbox?! This color is not me, at all. Plus, it's kind of a bummer that I really did get another Color Club polish in a nearly identical shade just a couple months ago. This was the dud of the box for me.
Chella Ivory Lace Highlighter Pencil
What they said: This face illuminator brightens and contours – it can be applied 10 different ways!
What I say: YAY! This is in my makeup bag, and it's my new eyebrow highlighting pencil. The coverage is great, it blends nicely, and the color is nice. I'm super stoked to get such a good product in a generous size!
Vasanti Cosmetics BrightenUp! Enzymatic Face Rejuvenator
What they said: This customer fave mimics effects of microdermabrasion for a glowing, smooth complexion.
What I say: Another really solid product! When I was an esthetician in salons, one of my favorite treatments was a papaya enzyme peel. This product is really close to the one I used in my facials; the texture and the effectiveness are remarkably similar. I loved this. I miss my peel! So far, I've only used this once, but there was a noticeable difference in the brightness of my complexion, and the texture of my skin. It lives in my shower now, and if it keeps up the good work, it could become permanent.
Chuao Chocopod
What they said: Made with premium cacao, these inventive treats satisfy any sweet tooth.
What I say: The piece I got had candied orange peel in it, and that's all I needed to know. Yum, yum, get in my belly. I ate it all up, and it was DELICIOUS!


Besides the boring nail polish, this was an A+ box. I had a hand cream AND a brow highlighter in my Sephora cart, then this box came, and I was able to buy other stuff! Between that and the chocolate, it's like Birchbox has got me bugged. Add in the fabulous papaya peel, and I was SO EXCITED. This month was totally worth the $10 price! I've found myself, more and more, really looking forward to getting my Birchbox every month. I'm really excited to see what's in store for December!