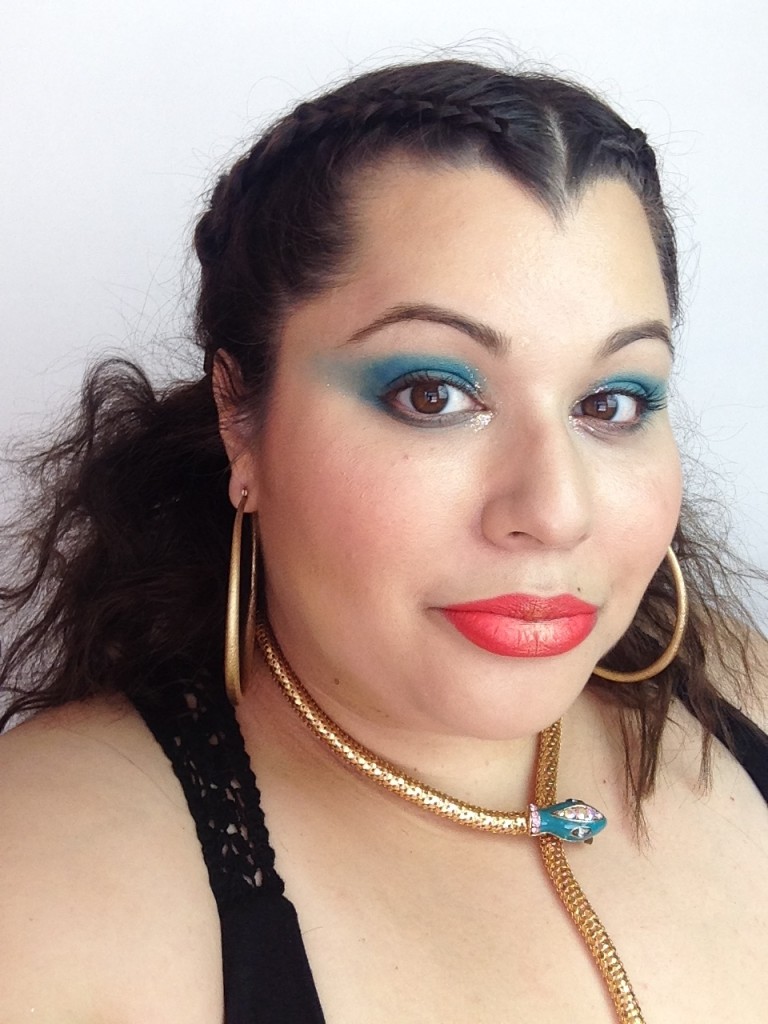 Thanks to the freak nasty dude I live with for coming up with, "Saturday Night Beaver."
I'm a little obsessed with the glam and disco era of the 70s. I like glitter and dancing! I like freewheeling lifestyles! I like John Travolta! I don't know, guys, I think I would have been really popular at Studio 54. I'm a good time!
I want to start doing photo steps of these look breakdowns, but this one is super easy, so I'm just going to run through it.
The eyes are all Urban Decay. First, I used "Gonzo" from the Electric Palette around the eye, all over the lid, and dragged it out towards my hairline. Then, on the inner corners, I used UD's Heavy Metal Glitter Eyeliner in "Midnight Cowboy." I also lightly patted some of the glitter on my temples, over the smudged out teal shadow. A matte nude shadow on the brow bone, and some mascara finishes the eye.
Lips were a fun combination of orange and gold. I used "Indie Flick," a matte orange, by NYX Cosmetics. After that, I pressed a little bit of gold shadow into the center of my lips. I used "Half Baked" by Urban Decay.
I had so much fun with this look! I didn't use it for anything, but Jason and Rowdy were really impressed! I mean, really, this was the hair day of my life. I wish it could look like this every day! My braiding skills still suck though, so I'll just have to wait until the next time I can convince a friend to get her hands all up in my scalp.
I sent pictures of this look to my mom for an accuracy check, and she gave it her seal of approval. Let me tell you, she knows what she's talking about, I've seen her do The Hustle.
What do you guys think? I love it! Any questions?