Melody Ehsani X NCLA Nail Wraps, Wax Print, $16
I was kind of feeling over nail wraps. In theory, I'm into it, but I don't know. Some of the patterns and prints are aight, they're just never what I want to have on my nails. I mean, I have a few wraps in my stash that I've never even opened. I was saving them for the right time, and now I don't even want leopard nails!  You're welcome for my money, Sephora.
It had been a long time since any nail wraps caught my eye; not since the gold foil Minx wraps I bought to wear last October were sort of a mess.
Since then, I've just been doing plain nails, in cream colors. No shimmers, no glitters, no nail art.
But, oh mama. I saw these Melody Ehsani designed wraps and I feel in so much nail love! I was picturing a whole summer's worth of hot nails when I placed my order for two different styles.
They shipped out fast, and they were at my door within a week. The printing on these wraps is really good. A lot of the designs are graphic, and nice clear, sharp lines make sure none of the patterns look smudged or cheap. These are a couple dollars more expensive than nail wraps typically are, but you get more wraps (44) than you usually do, so it's fine.
I took them with me to my last nail appointment, and had the little badass that does my nails put them on for me.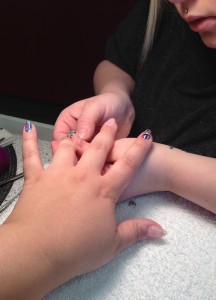 We applied them over my Sally Hansen Diamond Strength Base Coat, and finished them with my Seche Vite Top Coat. They were a little tricky to put on because the point of my nails is sort of severe right now, and that makes it hard to smooth out the tips without creasing. But, after a couple fingers, she was able to put them on smoothly. She said they were nice wraps, they were easy to work with, and once you got into the routine of the application, they were fast to apply. We were able to easily trim them to fit my nails too, so we weren't totally constrained by their existing sizes.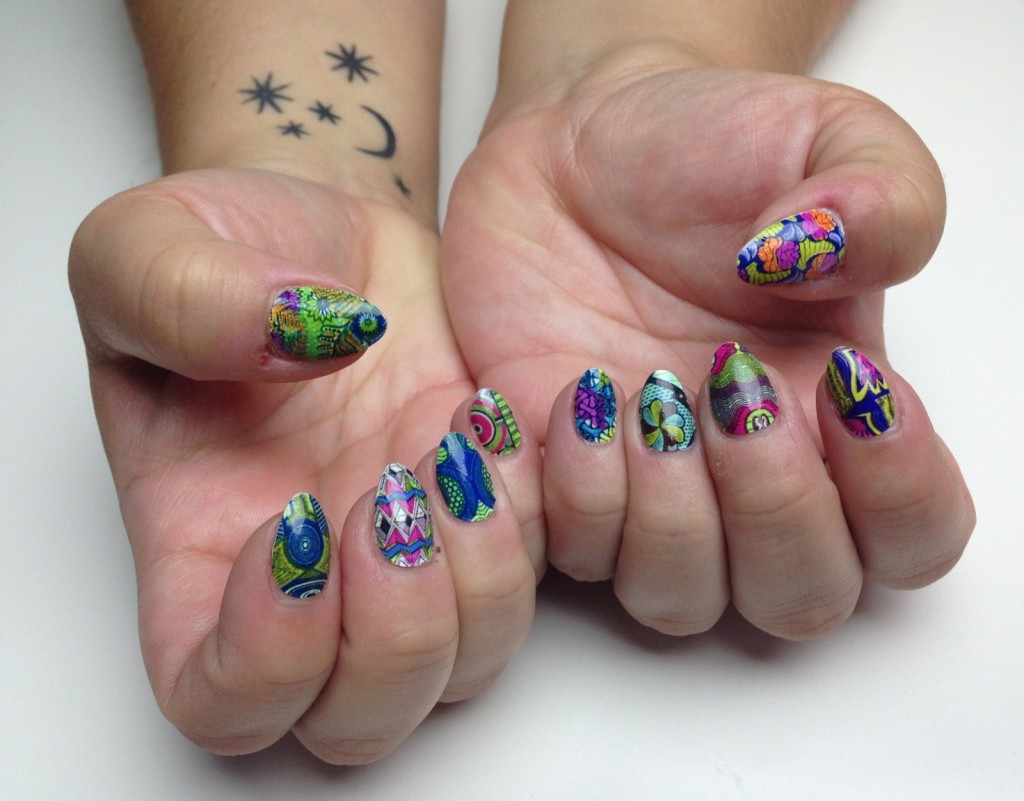 I call this pose, "Gripping Two Corn Dogs." It's one of my hand model specialties.
Ummm. FUCKING NAILS DID, RIGHT? They're so cool, they're distracting. Like, all I'm seeing is my own hands right now, and all other life is secondary.
EXHIBIT A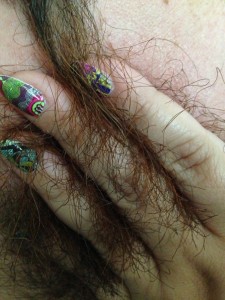 Actual real photo that I took last night of my own nails in Jason's beard because I thought it would look like my hand was in some pubes, and it totally does. Haha! It's so gross! I'd like it if my friends with bearded husbands would take their own versions of this picture and send them to me. TXT ME U GUYS!
But the point is, I noticed this only because I was staring lovingly at my own hand while I was lovingly stroking my husband's face because my nails are soooo hot! It's probably not great to admit that you can so easily be driven to distraction by yourself, but it's the truth. That's how I know when something is so right! If it's right, I'll model it to myself for days.
I've had them on for four days now, and I'm only seeing a tiny bit of lifting at the top of one nail. The edges are all holding up well to my constant picking, typing, dog scratching, husband pinching, and impatient tapping.
I'm really happy with these wraps. They look rad, and the quality is great. I'm super excited about the other one I bought! I really don't see these languishing in my nail bin for years.
Buy them HERE.