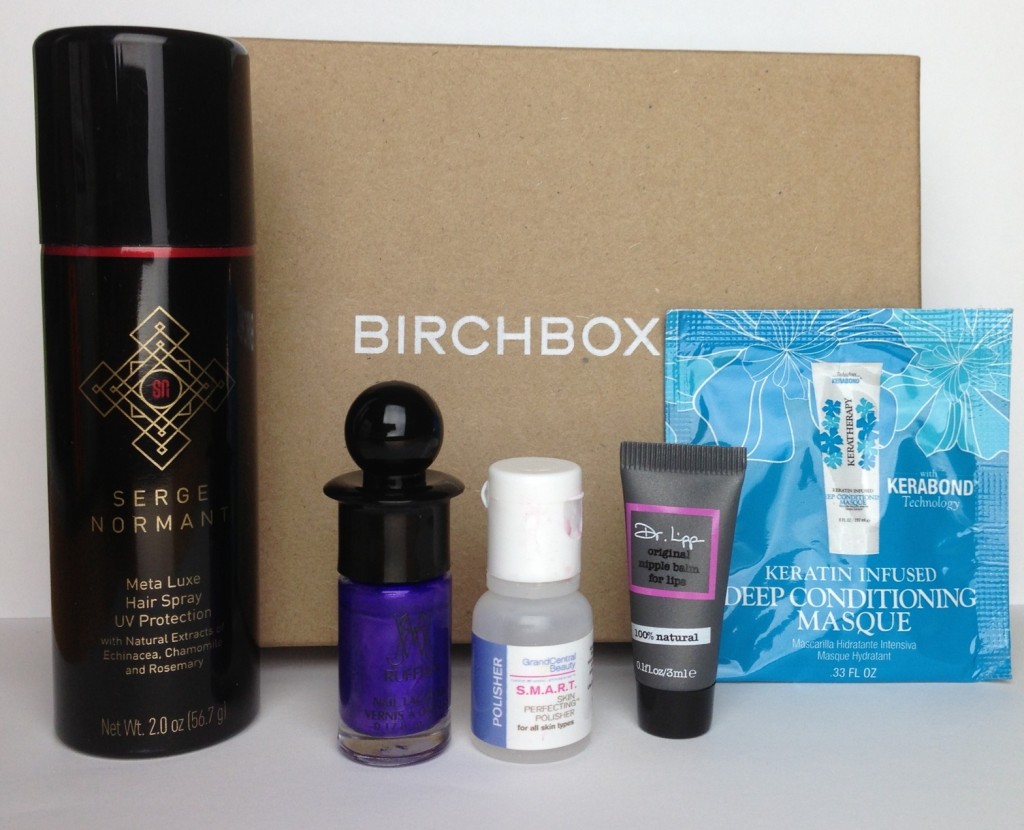 Damn you, Birchbox.
After my first box was whatever, and that was followed by a box that was way late, I was ready to be mad. I had a strong thirst for haterade, and I was all set to chug it.
But I keep getting great boxes!!
This month's box is the third box in a row that has been pretty spot on. I'll use everything in it, and I'm actually going to BUY a full sized product this month! That's never happened before!
Let's get to it. From left to right….
Serge Normant Meta Luxe Hair Spray
What they said: Airy mist that keeps your 'do smooth and frizz free, and also shields strands from UV rays.
What I say: I haven't used this yet! I don't really have a lot of use for hairspray in my day to day life. I do like to keep my travel toiletries bag stocked with travel size products, that way I only have to throw in the extra stuff I'm bringing, so I'm going to add this hairspray to that bag. It smells really, really good. That's nice. I have one travel size hairspray that, I'm telling you, it smells like dead bodies. I'm going to chuck that one and add this one.
Ruffian Nail Lacquer – Delirium
What they said: Bold purple from the fashion label's first lacquer collection.
What I say: WHOA THIS POLISH IS NICE.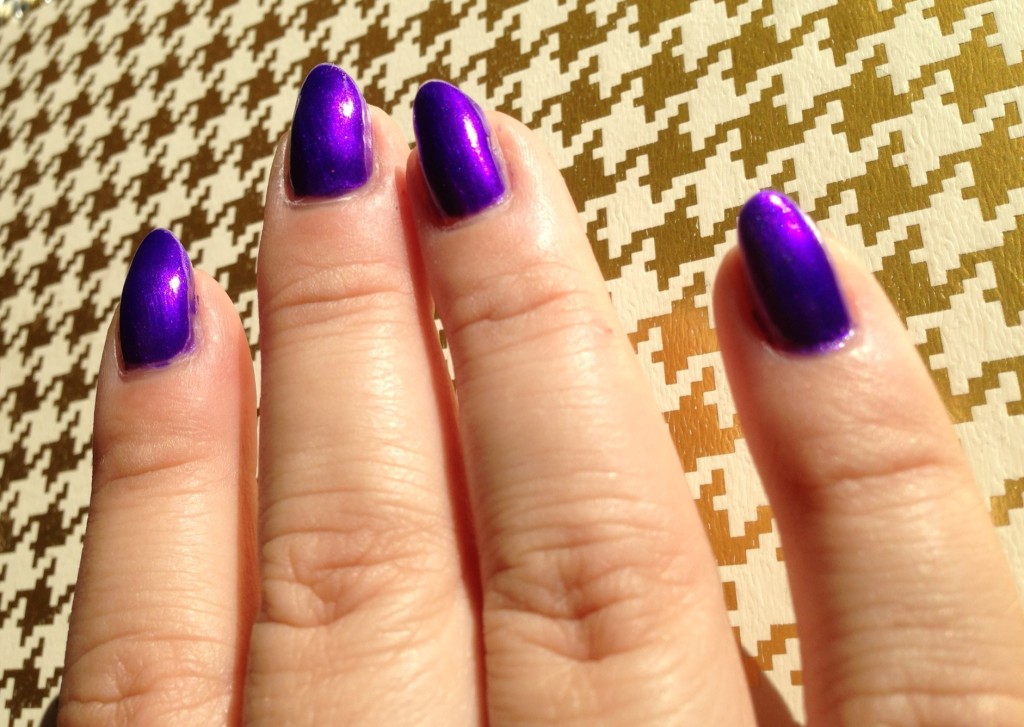 It is surely a bold purple, and I swear I'm picking up some shifting dark blue in there. The checkout lady at the grocery store said to me, "That's a beautiful cobalt blue polish you have on!" And I was like, thanks. For whatever reason, I always find myself arguing with people over what is and isn't purple. So, I just let this one go. It does look pretty blue indoors.
The Ruffian bottle is pretty, and the handle on the brush made application super easy! The formula of their polish is really luxe. Deeply pigmented, beautifully self leveling, and flowing from the brush; I only really needed one coat. I did two just because I always do. Gorgeous.
Grand Central Beauty S.M.A.R.T. Skin Perfecting Polisher
What they said: This multitasker made with natural botanical exfoliates, tones, smoothes, and moisturizes.
What I say:  UMMM. FUN!!! This stuff is fun! You massage a little bit onto your face, and all this crud comes off! Little beads in the gel scrub everything up and lift it away. The bottle says rinsing is optional, so I didn't rinse to see what would happen. Everything worked out great! My skin was soft, smooth and bright. My little bottle had some weird pink stuff all over it, and it was only about half full, but it was still cool.
Dr. Lipp Original Nipple Balm for Lips
What they said: Originally made for nursing moms, this ultra hydrating balm is a makeup artist fave.
What I say: I'm buying this!! It nailed my chapped lips and my scratchy cuticles in one fell swoop. A little bead of balm was all it took to take care of everything. LOVE IT. BUYING IT. WANT IT AT MY HOUSE. THE LIPS ARE THE NIPPLES OF THE FACE.
Keratherapy Deep Conditioning Masque
What they said: Right any number of hair sins with this intensely restorative, keratin infused masque.
What I say: I haven't used this yet. It came in while I had my head shellacked in a coconut scented disaster, and I was feeling a little deep conditioned out. I'll get to it soon. I always think my hair is too dry.


So, I guess at this point, I can really say I'm enjoying my Birchbox subscription. If the boxes keep coming like this, I'll be happy. And still no perfume samples! I hate perfume samples.
Get your own Birchbox subscription HERE.