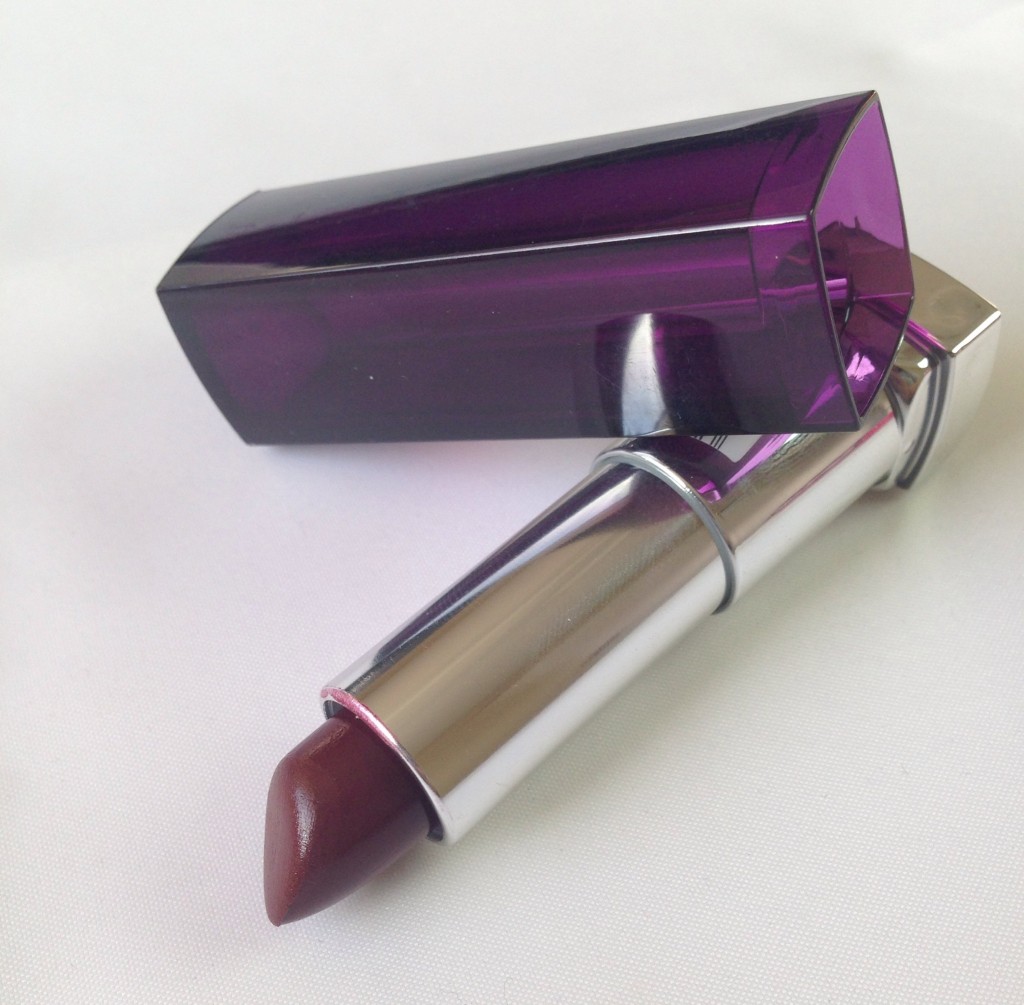 Is it tacky that I shot this photo after I had already used the lipstick? I took another one before I tried it, but it didn't come out like I was hoping, so I went for round two. Just pretend this is totally new and you can't tell the angle I apply my lipstick.
Shhhh….just pretend…shhh…..there you go….mama's got you….
I have been ON these Maybelline lipsticks for the last six months, or so. They're so cheap, and shockingly luxe! The coverage is always great, and they're so moisturizing and creamy, they're totally comfortable to wear. I've never been so impressed by a drugstore brand. Great work, Maybelline! Keep it up!
I grabbed Darkest Cherry because I wanted a burgundy sort of color that was less intense than my OCC Lip Tar. My Lip Tar is great, but they're not therapeutic in any way, and sometimes, I just don't feel up to fussing with that little brush. Just let me slap it on!!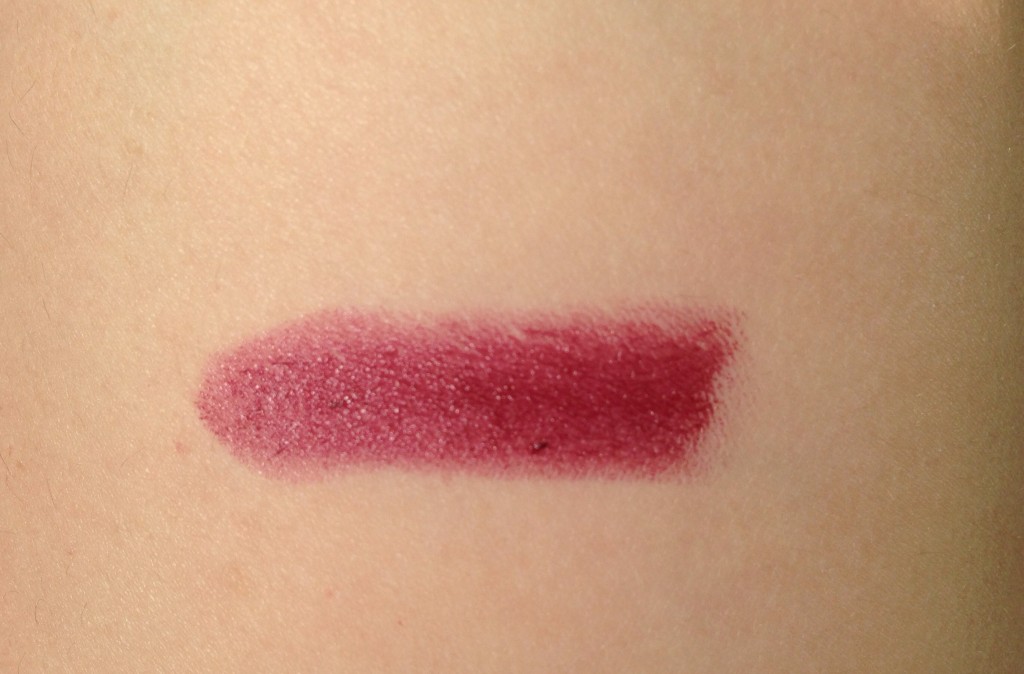 Deepest Cherry is a perfectly vampy, oxblood color. It doesn't really skew purple or pink, it's a pretty solid reddish brown; it's lovely for Fall/Winter. It gives me so many 90s feelings though! I'm not saying I have to fight the urge to use a brown liner with this, but I've thought about it.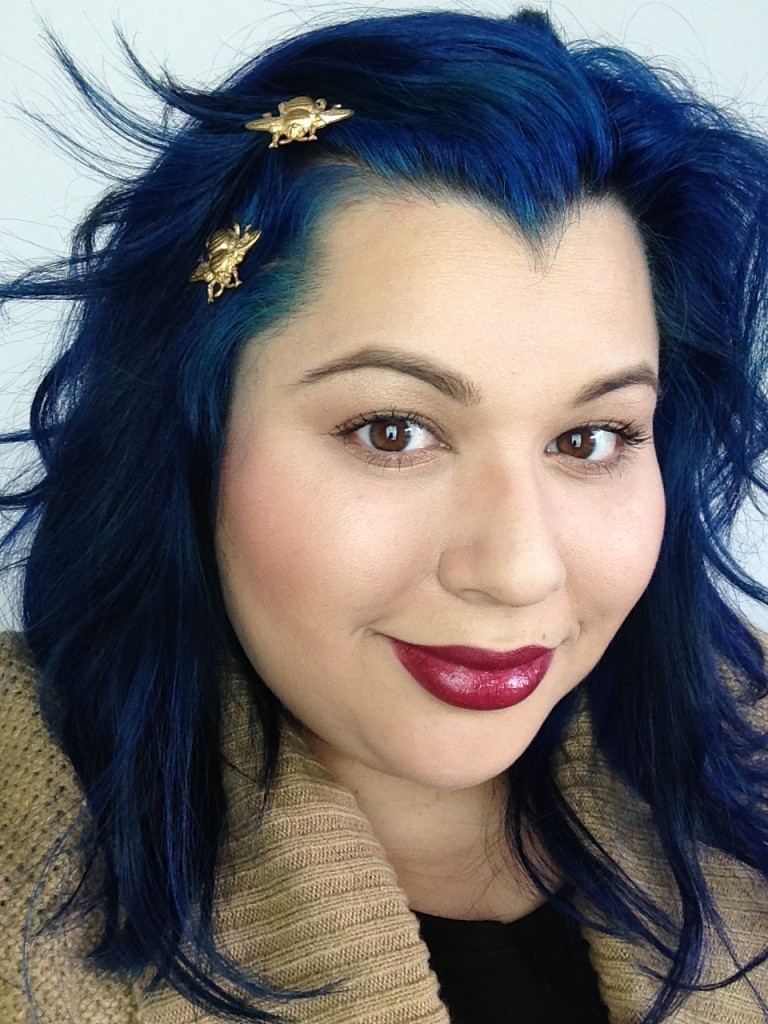 Jason on my hair like this: "It looks like Helena Bonham Carter!"
This color is so gorgeous, right?! It's dark but not so dark you look like you fell out of The Craft. Like I said, the formula is amazing. A lot of colors in this family can apply patchy and uneven, but this one is a dream. It slides right on without any tugging or skipping, and it doesn't leave any lines when you press your lips together.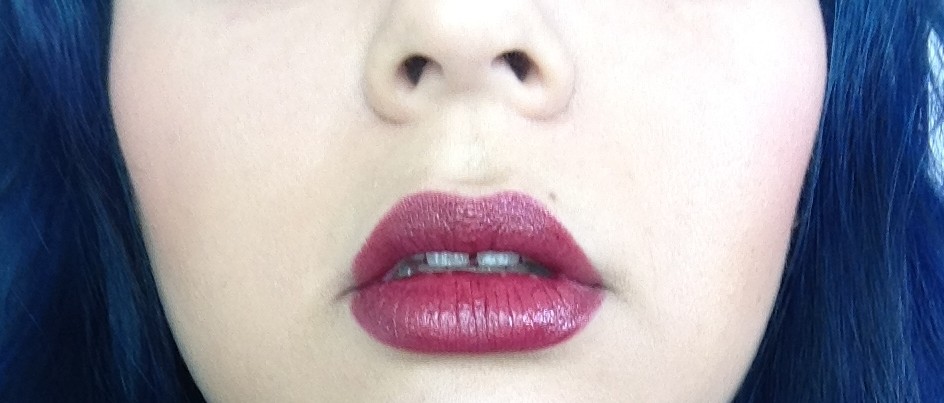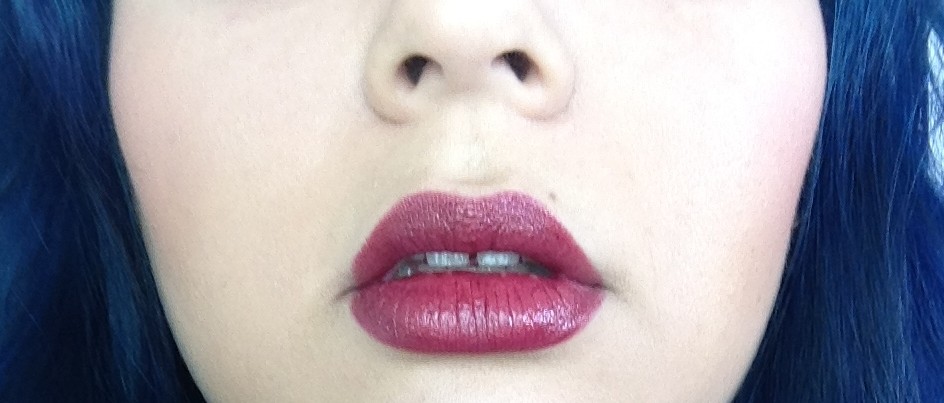 NO TOUCHING!
The wear time is pretty average, a few hours without eating or drinking, but, that's a fair trade when you get so much hydration. I love how my lips feel when I wear these lipsticks. They're really great, and I can't stop buying them!! THANK GOD they're so cheap, or I'd be in some real trouble. Maybelline is coming out with a range of nude colors in this line, and I can't wait to get my hands on them!
As a special bonus, here's a better picture of my bee pins: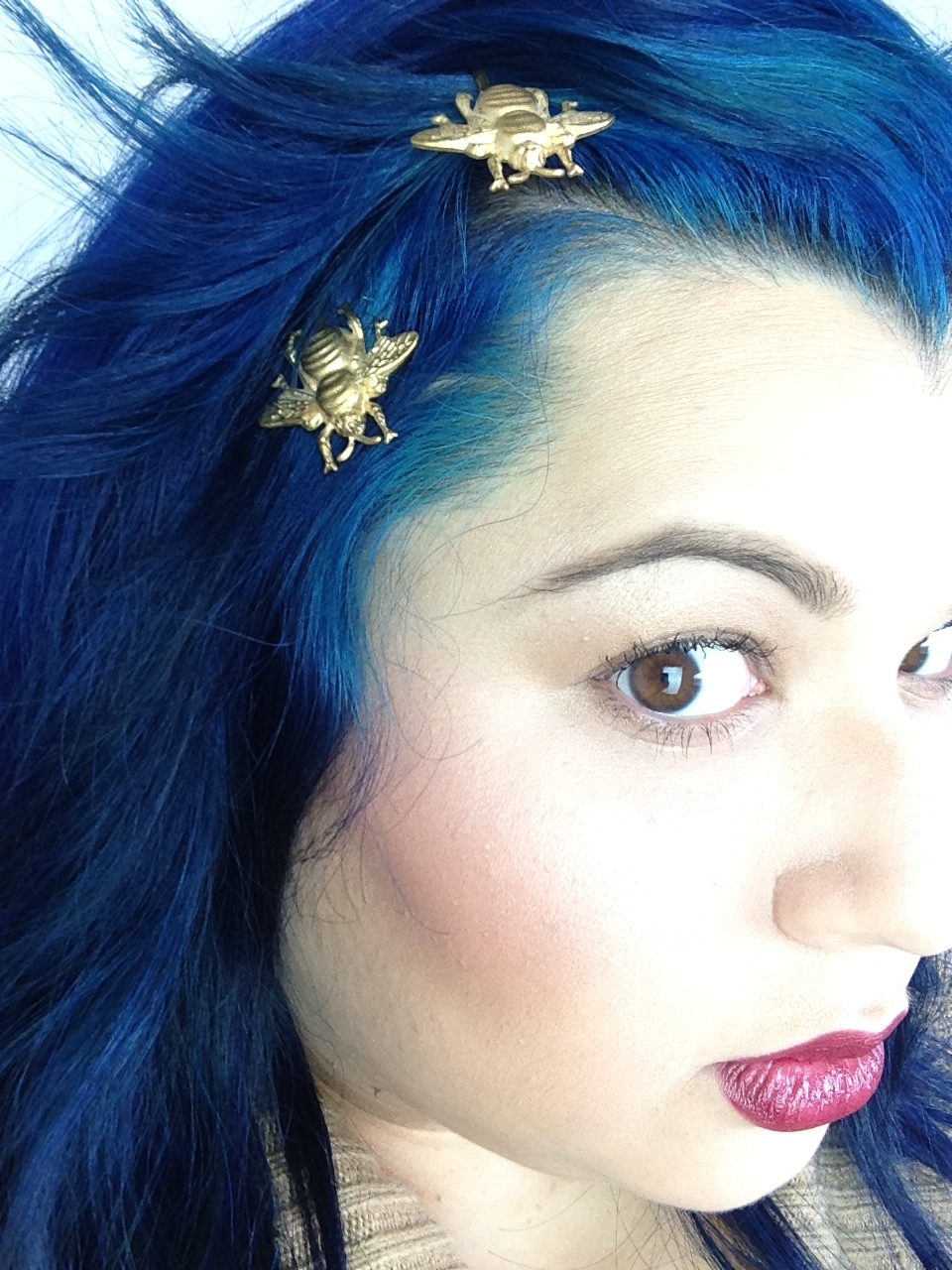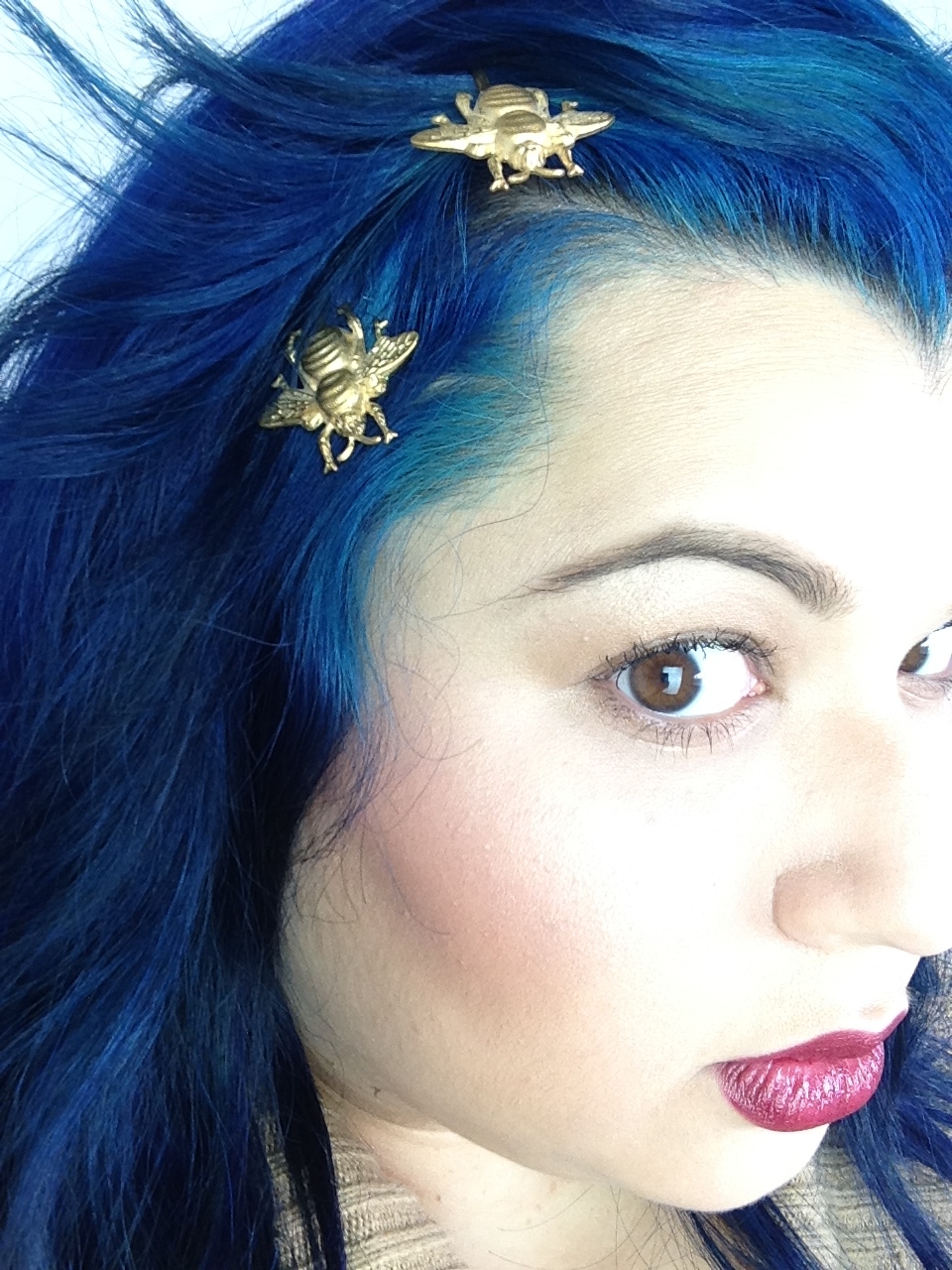 I figured you'd want to see! They're so cute, I can't stand it!! They were a birthday gift from a good friend who was genius enough to scope out my Pinterest page for ideas. Whenever I think my hair needs a little something extra, I just pop in my bee pins, sit back, and let the compliments roll in.
Buy Maybelline Color Sensational Lip Color in Deepest Cherry at Ulta, Target, drugstore.com, and I don't know, anywhere you buy tampons, probably.