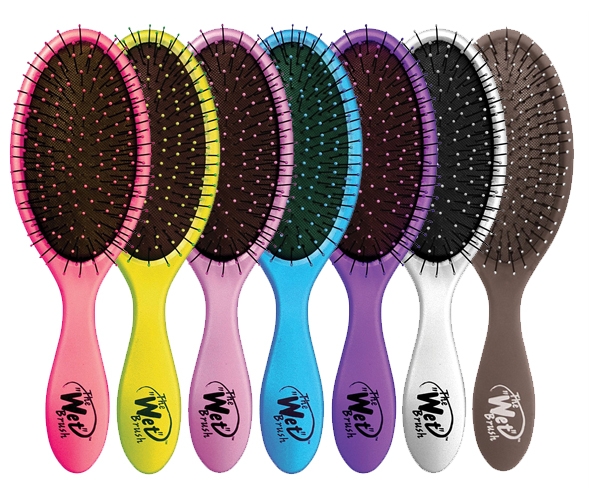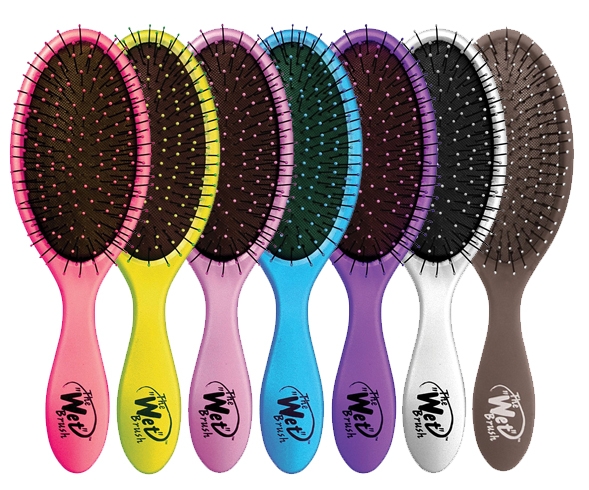 ALL HAIL THE WET BRUSH. IT IS ONLY $8.99.
Because I am darling, I am extremely tender-headed. When I was in elementary school, my mom would brush and braid my hair in the morning, and I would cry and whine the whole time. Mexican moms don't have any tolerance for that shit though, so she would just tell me to suck it up, while she braided faster. Hey. I get it. I'd do the same thing. What are you going to do? Not brush your kid's hair? She had three girls to get on the bus, and no time for my nonsense. I ran through the braid assembly line just like everyone else.
I've never outgrown that delicate scalp. I have to grit my teeth in the salon chair a lot, and, honestly, I hate brushing my hair in my day to day life. Is that wrong? Until a few months ago, it never even occurred to me that I should be brushing my hair every day. It hurts! And sometimes, it makes my hair fluffy. In fact, the one time I do always brush my hair is the one time you're not really supposed to brush your hair; when it's wet. I have to though! I don't want it to dry all tangled. I'm already never brushing it, I can't start at a complete mess!
We all know brushing your hair while it's wet is a weird beauty no-no, right? When your hair is wet, it's crazy prone to breakage. Combine that with the pulling from the brush, and you've got flyaways, brotha. You're supposed to use a wide toothed comb, start from the bottom, and slowly work out all the tangles. It still causes breakage, and it still really hurts!! It's one of those things that you just do because that's the way you do it and that's the way it'll always be done.
NO MORE! THE WET BRUSH EXISTS! THANK YOU, SCIENCE OR WHOEVER!
Hair that has been colored like mine has generally had to undergo a huge amount of processing, so it really needs to be handled with care. Because of that, and not at all because I just love to buy new hair products, The Wet Brush caught my eye while I was at the beauty supply picking up some things to maintain and style my new cut and color. The packaging on the brush promised it was, "The Best Detangling Brush Ever!" The girl behind the counter backed that up, saying the brushes were really, really popular. Since this particular beauty supply was a "pros only" shop, that meant that hairdressers were buying them. That was good enough for me!
A few days later, when I finally washed my hair, I got the chance to use my new brush. My hair was wet, it felt extremely delicate, and it was tangled. I tentatively pulled the brush through my hair, and it was fantastic. Fantastic! No tugging, no knots, no breaking sound, no tangles! The brush slid through my wet hair, every time, without any resistance. It's a dream come true. Really. That may sound dramatic, and I don't care! My tender dome is legendary in my family, it's the real deal. A brush that makes this pain free AND keeps my hair from suffering breakage *is* a dream come true!!
The brush itself feels good to use; it's a nice shape and the rubber coating is great with wet hands. The bristles are really where it's at though. According to their site, the secret is that the bristles have "intelligent flexibility" so they're "flexible on one stroke, and firm on the next." If you say so, Wet Brush! I'm in!
The Wet Brush works great on wet or dry hair. I love it so much, I've even started brushing my hair almost every day. Just like the Queen of England!
Buy The Wet Brush HERE, or in stores at Target and Sally Beauty.