The drugstore is the first place we all started experimenting with crazy beauty, right? If you were like me, you were young, you only had birthday money, and you were obsessed with Long's Drugstore. They had all the best shit! Tons of face glitter and lots of cheap nail polish to shoplift.
Nail polish and toe rings….
Now that I'm too old to get busted for shoplifting without it being totally humiliating, and I have a debit card, I still like to peruse the drugstore for cheap beauty products. Scoring a good deal on a quality product is fucking intoxicating. I like to buy a bunch of stuff, show it all to Jason, and then gloat about how, "If you think about it, I'm really making us money by buying all this cheap product!" He says that's not how it works, I say he doesn't know what he's talking about.
So, today I'm introducing you guys to some of my very favorite discount beauty buys. These are all products that I've extensively tested and re-bought. They're all good, they're all cheap, and they're all super easy to find at Target, Ulta, the grocery store, and online.
Pick up your Cipro and some lip gloss all at once! Let's do it!
Queen Helene Mint Julep Masque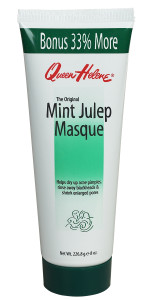 Don't let the dated packaging and low price fool you, this mask is the real deal. Like, old school, thick and bright green. It's straight up Mrs. Doubtfire status.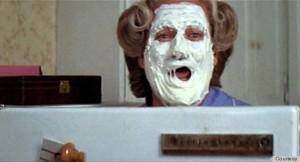 HELLOOOO!
Haha! I love it! Mrs. Doubtfire, you are SO CRAZY!
Queen Helene's Mint Julep Masque has a clay like consistency, which is why it hardens as it dries. This part can hurt a little. I don't know, maybe it's pulling on the hypothetical peach fuzz I definitely do not have on my chin. After 15 games of Bejeweled, rinse it off, and rewash your face with your cleanser. You should see brighter and clearer looking skin. It definitely helps with blackheads and drying up zits. The site claims it "shrinks enlarged pores," but that's bullshit because that's impossible.
In fact, let's clear this up right now:
ANY BEAUTY PRODUCT THAT CLAIMS TO "SHRINK" YOUR PORES IS LYING TO YOU. YOUR PORES ARE THE SIZE THEY ARE AND THERE ISN'T ANYTHING YOU CAN DO ABOUT IT.
All beauty products can do is decrease the appearance of your pores by cleaning them out. I'm sorry. I wish it wasn't this way, but it is. But, hey, if you're in the market for a mask that will decrease the appearance of your pores, this one will do it. The mint can sting a little, so if you have extremely sensitive skin, tread carefully. I've been using this mask for years, and I buy it over more expensive masks all the time.
ETA: A friend left a comment about her experience with the mask, "When I was younger than 20, it was fine. Now that my skin is aging, it is asking for trouble. It dries me out way too much, it burns like hell, and leaves me with a thin, frail, red mess."
So, fair warning for all you tender faced readers! You could maybe still use it in spots; if my cheeks are feeling really dry, I'll only put it on my nose and forehead. But, if you have qualms, spot test first.
Revlon ColorBurst Lip Butter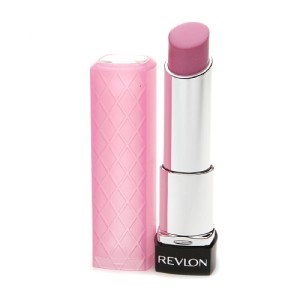 I'm a sucker for products that have the word "butter" in the name. I'm drawn right to it! I don't know what that says about me other than the obvious; I'm hungry and susceptible.
Revlon's Lip Butters go on so smoothly. Even the colors with shimmer in them don't really drag or get caught up if your lips aren't in great condition. Which is good for me because, as I've stated earlier, I gnaw on my poor mouth. The color payoff is good, with finishes ranging from sheer to dark. They have a balm like consistency, but they don't seem particularly moisturizing. If that's a concern for you, you can apply them over whatever lip moisturizer you use. They're great for summer because they're light, they aren't sticky, and they don't travel all over your face.
"Peach Parfait" is my oh-shit-I-don't-have-lipstick-on emergency kit. It's a fantastic nude that's always in my purse, and it looks great with almost any eye makeup I might be wearing. I loved that first color so much, I bought two more, "Cupcake" and "Tutti Frutti."
I was just embarrassed for myself typing out, "Tutti Frutti." That sounds like a grandma lipstick.
These Lip Butters are such a great deal. The quality is great and the price is awesome. You can even find them on sale all the time! BONUS!
Yes to Blueberries Facial Towelettes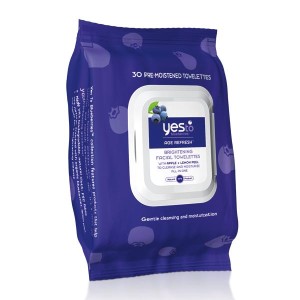 Look. I hate washing my face as much as everybody else. I especially hate it when it's after 2:00 AM, and I'm, um, three sheets to an ill wind.
So many vodka tonics
+
washing my makeup off over the sink
=
"FUCKITI'LLJUSTGETZITSIDON'TCARESOMEBODYTAKEMETODELTACO!!!!"
Followed by all the things on the bathroom counter being knocked over. I'm great at holding it together at the bars, but the second I get into the car with Jason, I go crazy! I'm like Roger Rabbit when you give him liquor; all broken windows and steam coming out of my ears.
OK, I've never broken any windows. But, I did once flood my mom's front room because I passed out in the shower with my leg over the drain.
If I'd had these facial towelettes then, I never would have gotten into the shower that fateful morning! I would have just wiped my face, and gone to bed. Then, the whole 80s movie montage that went down when I woke up and had to frantically clean up all the water because MY PARENTS WERE COMING HOME EARLY never would have happened.
It sounds like I was 17 when this happened, but I was 23. Oops!
Well, I didn't quite learn my lesson, I still drunkenly climb into bathtubs and showers. But, it happens a lot less often. For real, the ability to be able to just wipe off my makeup at the end of the night is such a relief.
These towelettes are perfect for taking off face makeup, and eye shadows, but they're not great for effectively removing all of your eye liner and mascara. It can be done, it just takes a little more work. I don't really care about that for this product because I'm not using it as my primary cleanser. Besides, who doesn't like a little sexy, smudged party eye?
I like to wipe my face with them, then rinse out the cloth and give my skin one more pass. That way, I can pick up any extra cleanser or makeup that's left behind. They clean your skin, and they moisturize too. So, if you're drunk or just lazy you're all set!


Put these products on your Target lists. Don't shoplift them!
Shoplifting is for 13 year olds with attitude problems. And Winona Ryder.
Are you a 13 year old or Winona Ryder?
No. You're not.
Shoplifting and teenage suicide, DON'T DO IT.