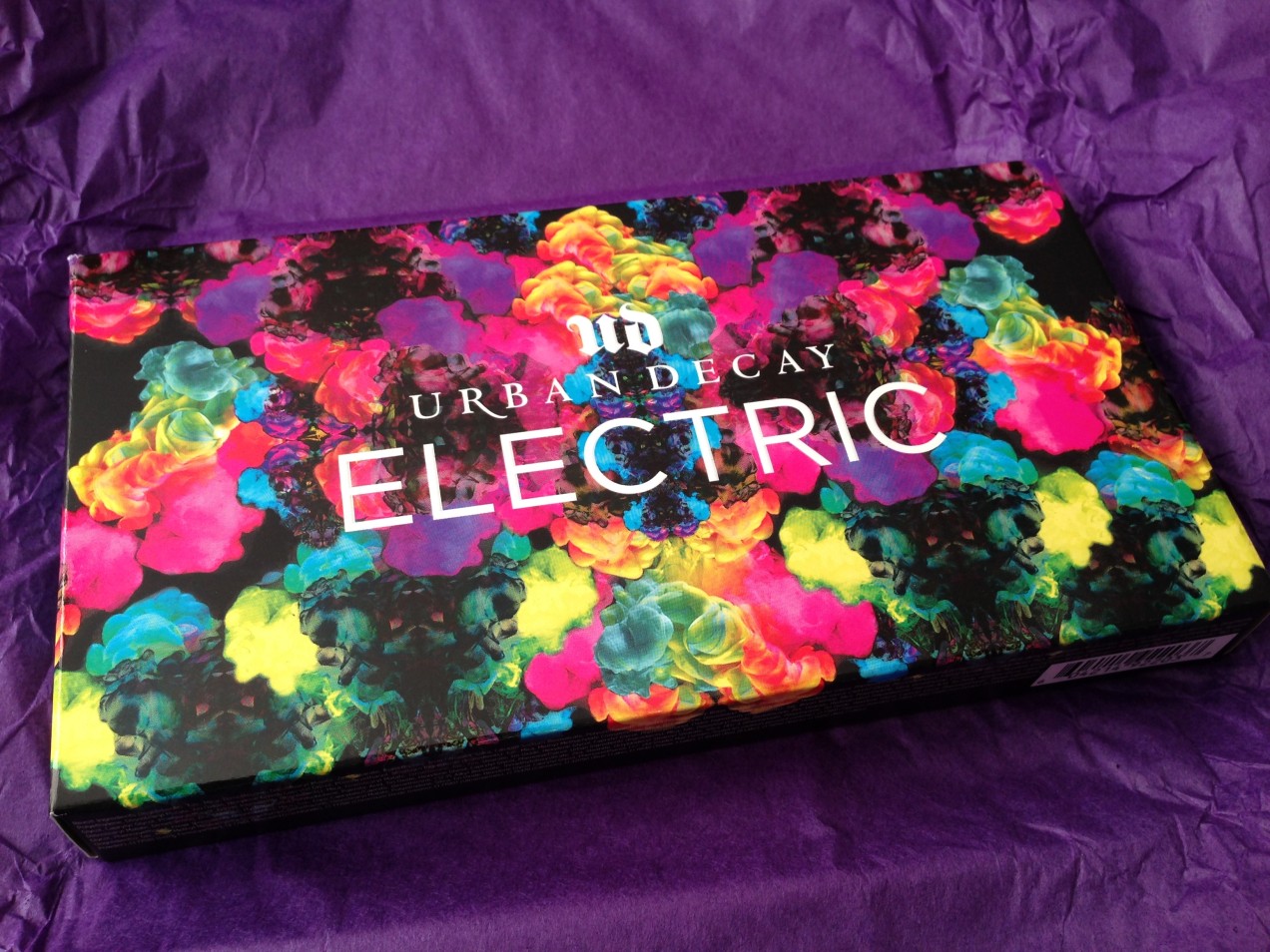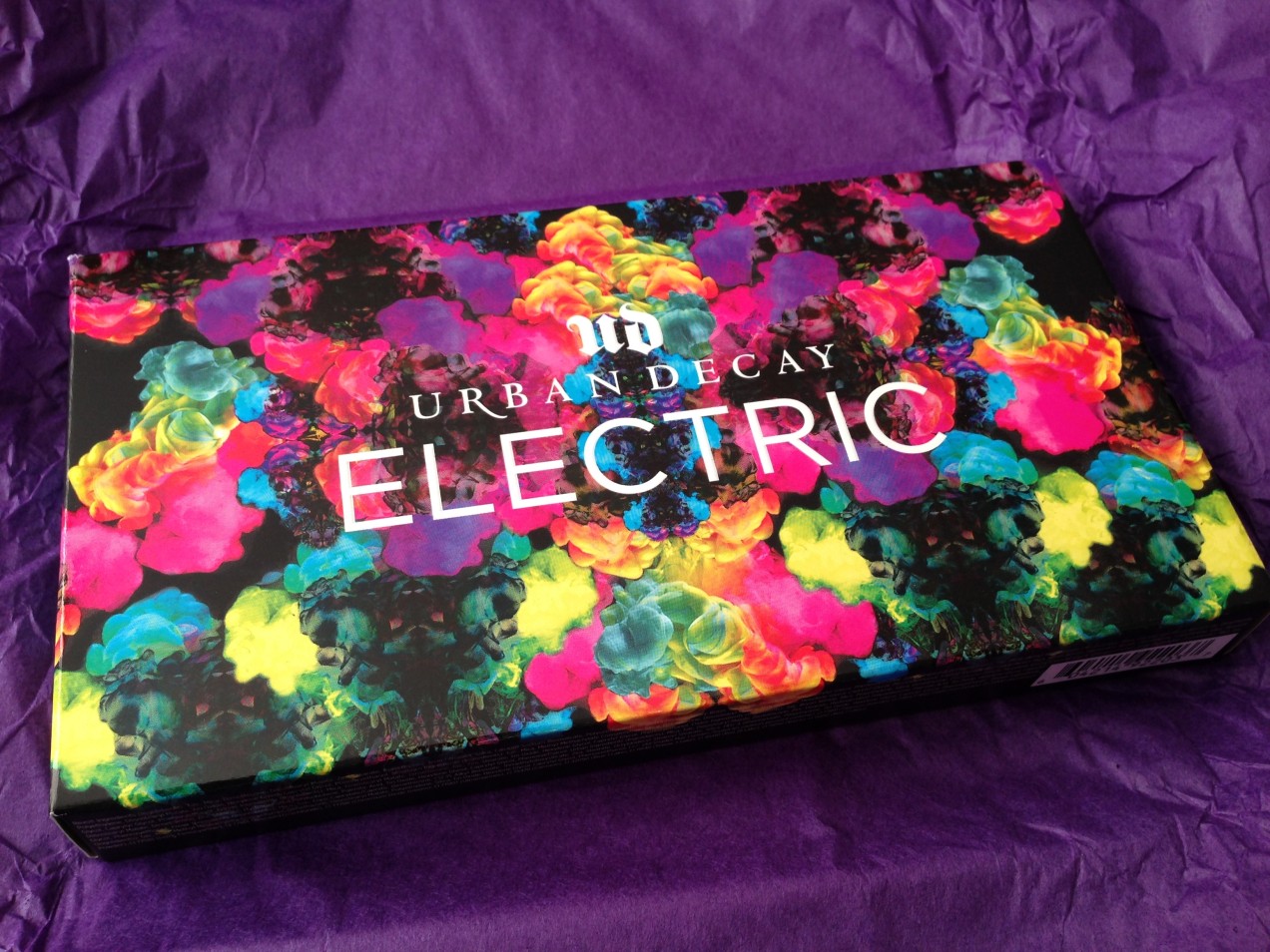 Electric Pressed Pigment Palette, Urban Decay, $49
I ordered this bad mamajama last Monday morning, when Urban Decay released it. It was in my mailbox on Friday, and I have looked exquisite every day since then. I haven't really had anywhere to go, BUT, I've been looking foine while I'm cleaning toilets and wrapping dog pills in American cheese. Today, I'm going to wear a full face while I clean our room. Is that a fitting activity for the way I look today? No, but it looks like a dirty panty bomb went off in there, and I can't keep living this way. Maybe this is other people's idea of good room decor *coughJasoncough* but it ain't mine. Also, I'm out of underwear.
MOVING ON.
Back in the early years, crazy colors were what first drew me to Urban Decay. I was snapping up nearly every palette they released! The first few little ones, all the Book of Shadows palettes, Alice in Wonderland, the Anniversary Palette, Vice, more little ones! And that's not even counting the single shadows I picked up. Then, around the time I started to feel like I had to tone it down a little, so did UD. So, then I bought all four of the Naked palettes! The Smoked palette! The Black Palette! I don't think I need to tell you I don't really have a lot of counter or drawer space. There are so many palettes, they have a dedicated cubby. Once the Naked palettes came around, I started doing my makeup way more neutral, and I had found myself wondering if I was ever going to go back to wearing a bright colored shadow. Honestly, as much as I used to love it, I didn't know if it was me anymore.
Cue Urban Decay reading my mind again!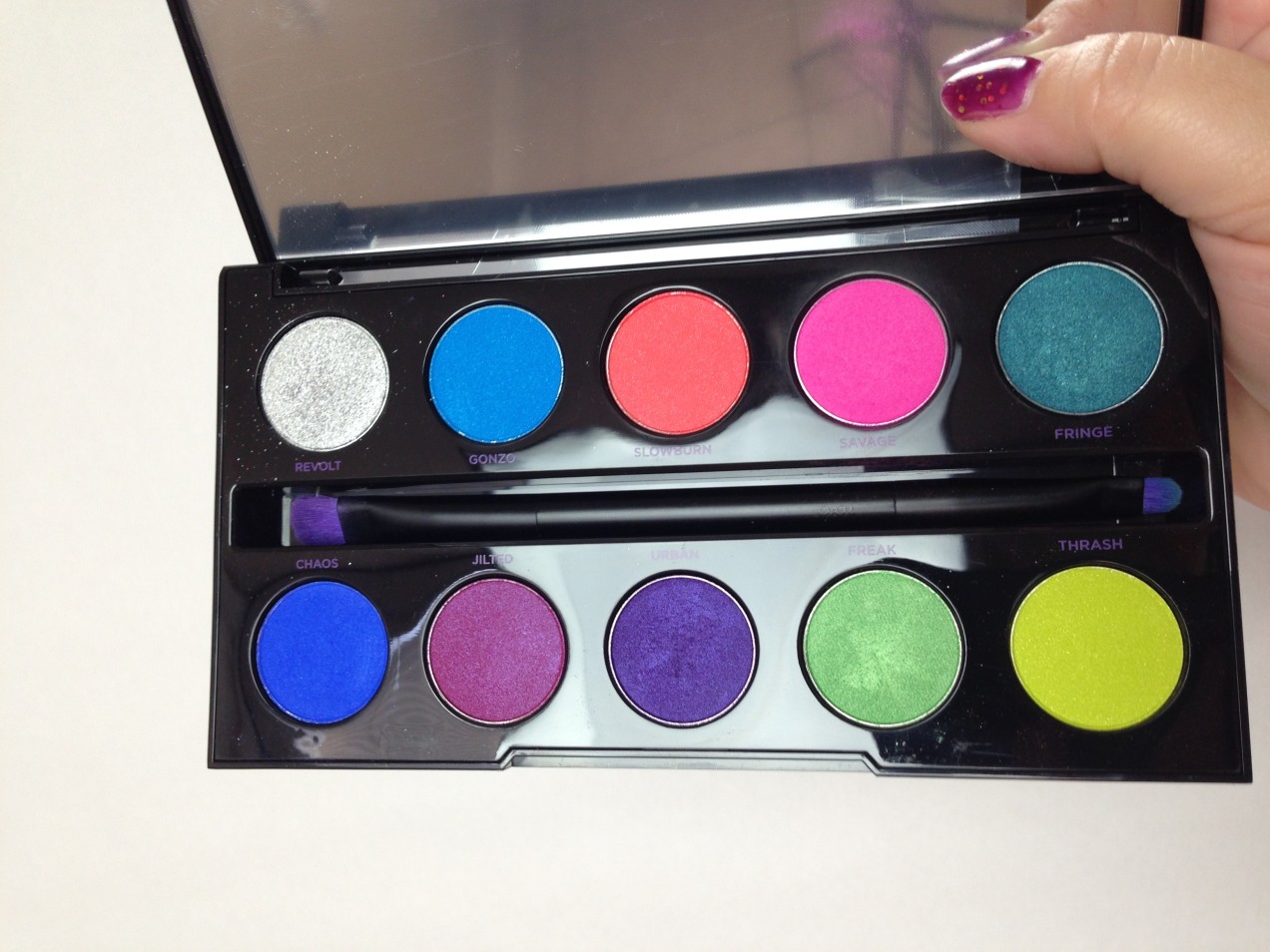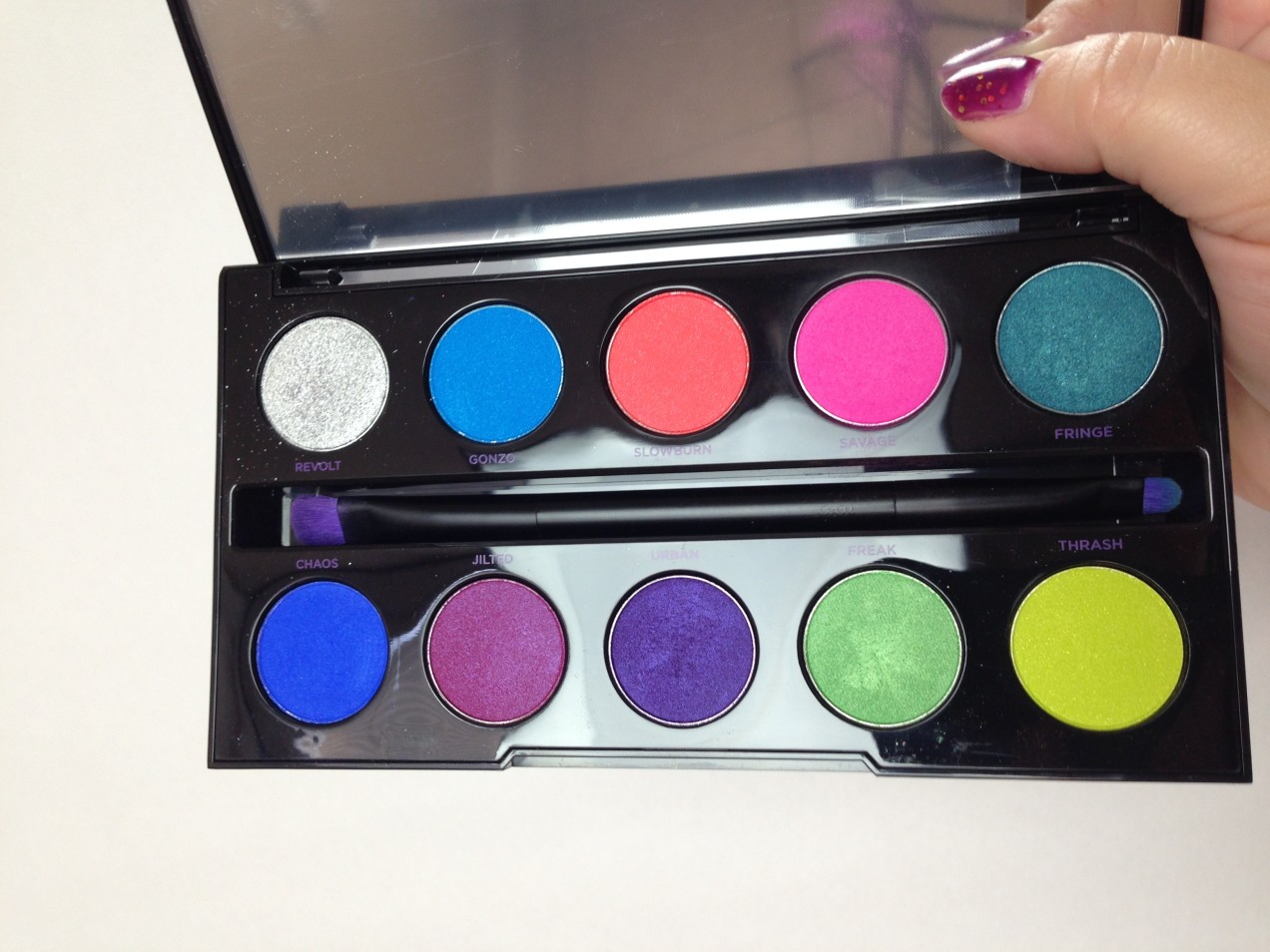 Top Row, L-R: Revolt, Gonzo, Slowburn, Savage, Fringe
Bottom Row, L-R: Chaos, Jilted, Urban, Freak, Thrash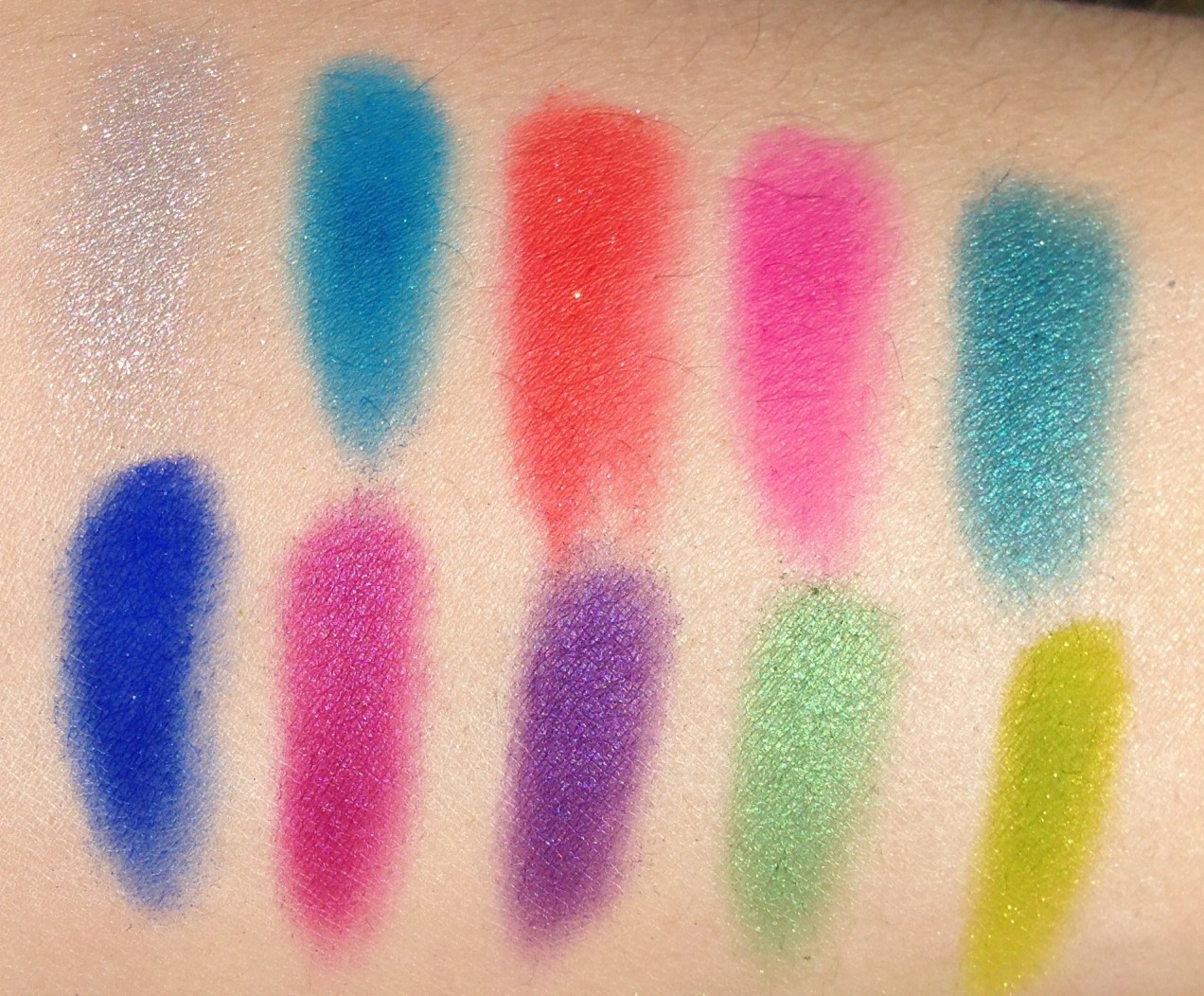 GAH. Those are bright! When I first saw them, I was like, "I don't know…." Then, I bought them, and I was like, "OH. WAIT. I DO KNOW. I LOVE THEM." I haven't been able to keep my hands out of it. I even set up my makeup station at the kitchen table, and I look at the palette while I eat my Eggos. Syrup is part of my creative process, ok?
The powders are so silky and rich, they're really beautiful. I'm talking HUGE color payoff, plus, they blend like buttah. I never stood a chance. UD enticed me back to bold colors, and I am happy about it! I used my matte UD eye primer for all of these looks except the last one when it occurred to me to try my white eyeshadow base. Also, I did my eyes before I did my foundation or anything else on my face. I didn't actually get a lot of fall out from these shadows, but what does fall is so intense, you'll want to be able to just sweep it away with a brush. I haven't yet had the chance to use every color in the palette, but I plan on continuing to play with it, and I'll post any other looks I do. For now, I have three looks to show you!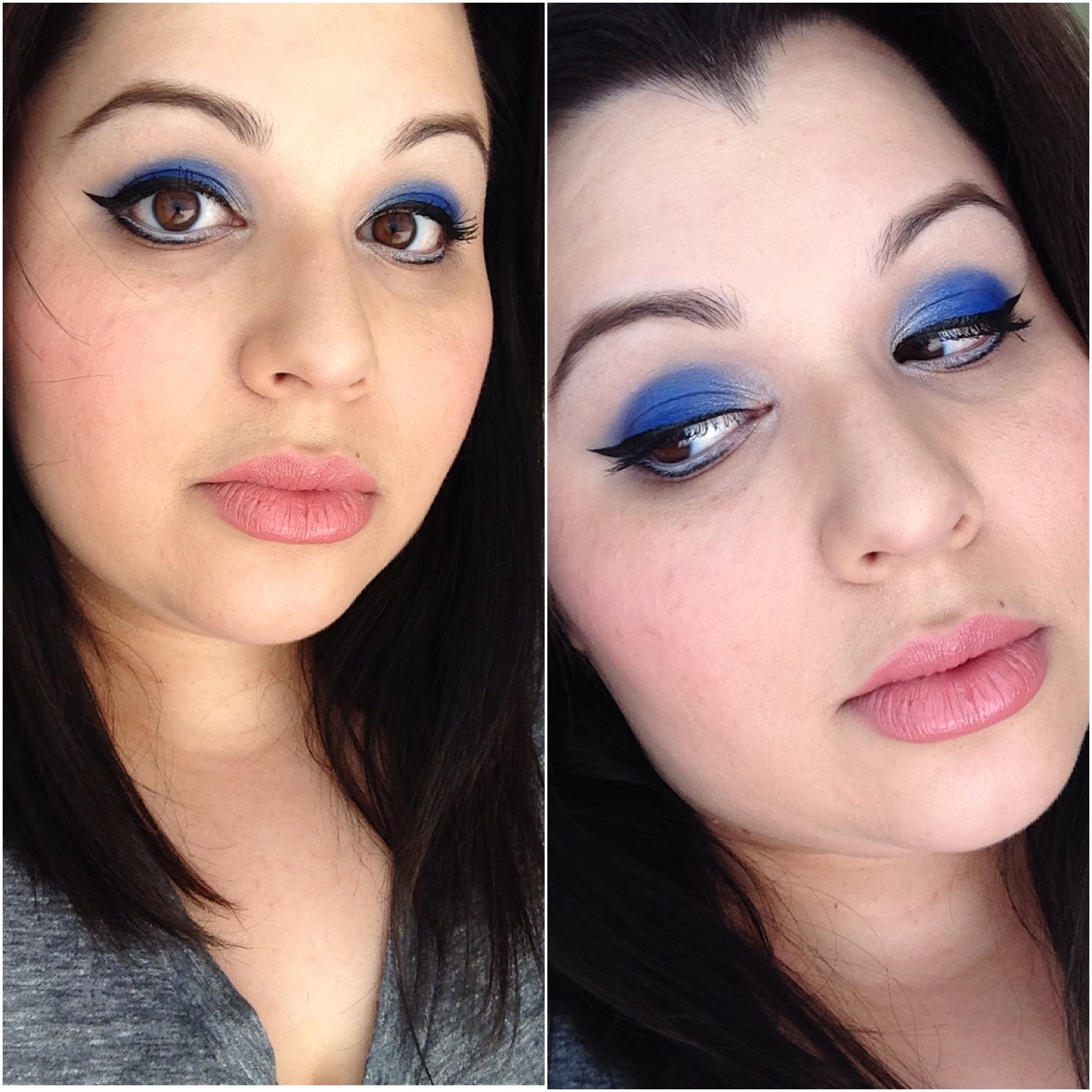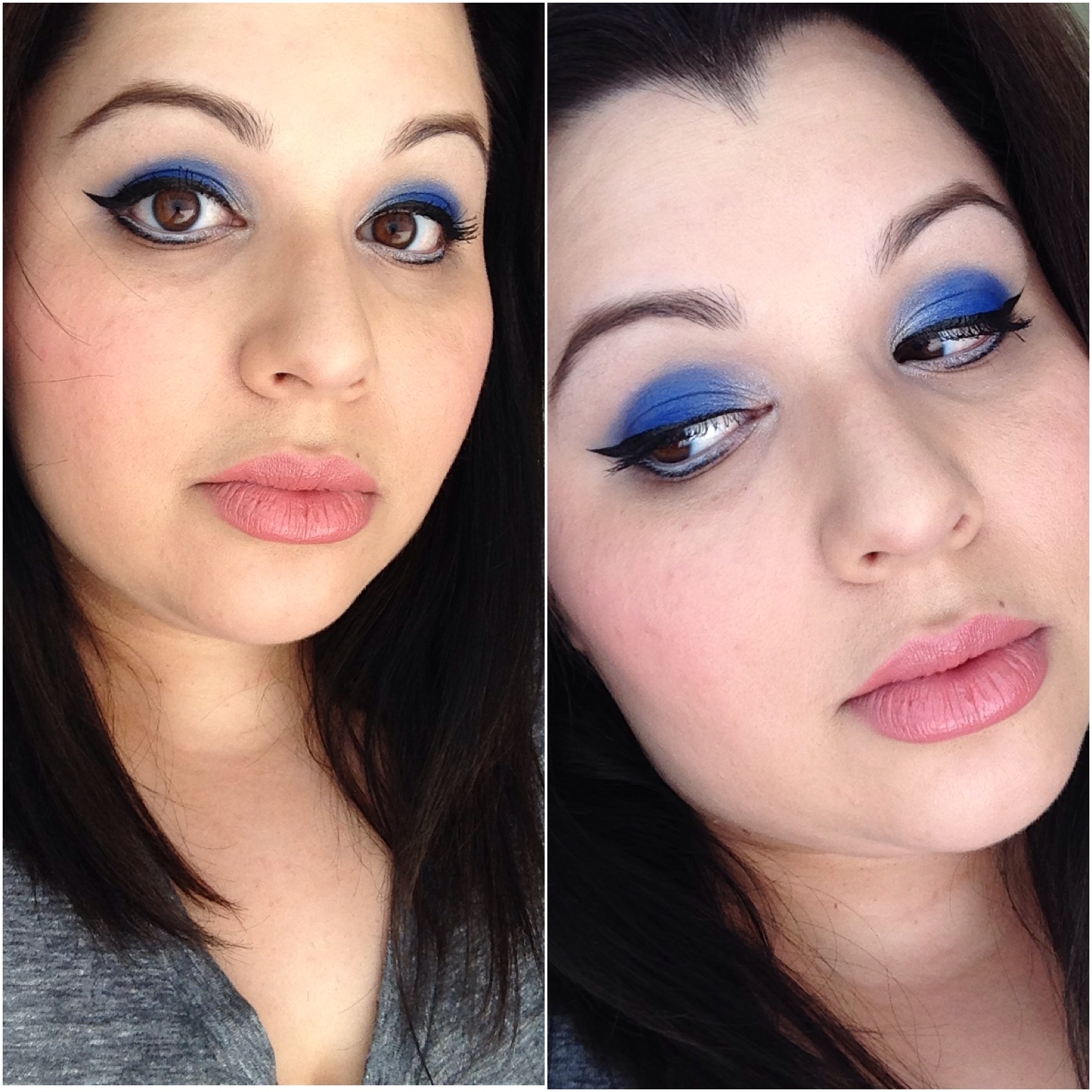 I'm a sucker for cobalt blue; it's one of my all time favorite cosmetics or accent colors. I had to try it first! It was flirting with me! Like, practically waggling its tongue at me, and we all know how ladies can't resist that! This look was done using just Chaos on the lid, Revolt in the inner corners, and a matte nude from the Naked Basics palette to clean above the crease and up to the brow bone. I used a liquid liner on my top lid, and one of my black UD pencil liners on the bottom, the blush is actually the hot pink color, Savage, from the same palette, and I finished it off with UD's Revolution lipstick in Naked. I'm sorry, but I looked really beautiful that day.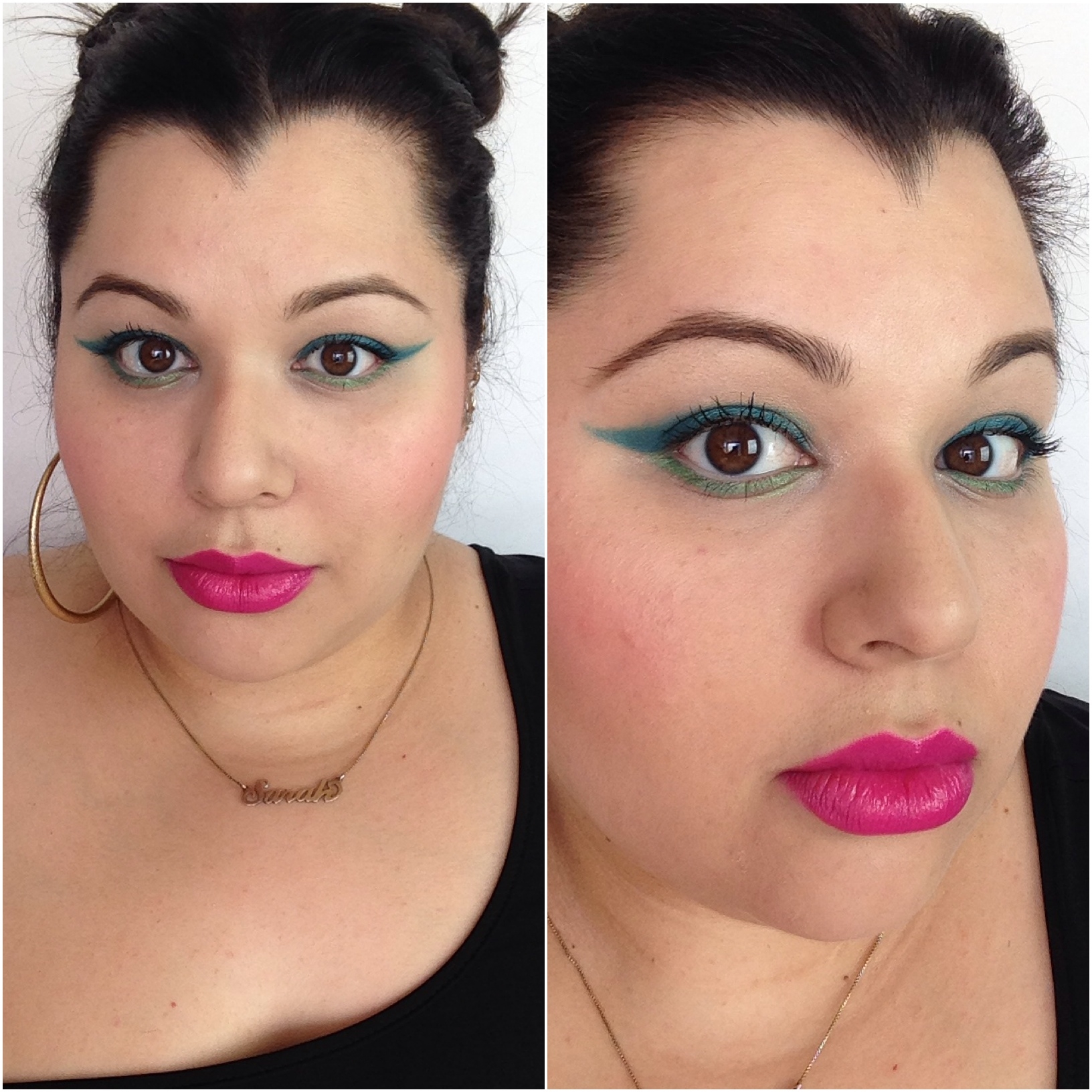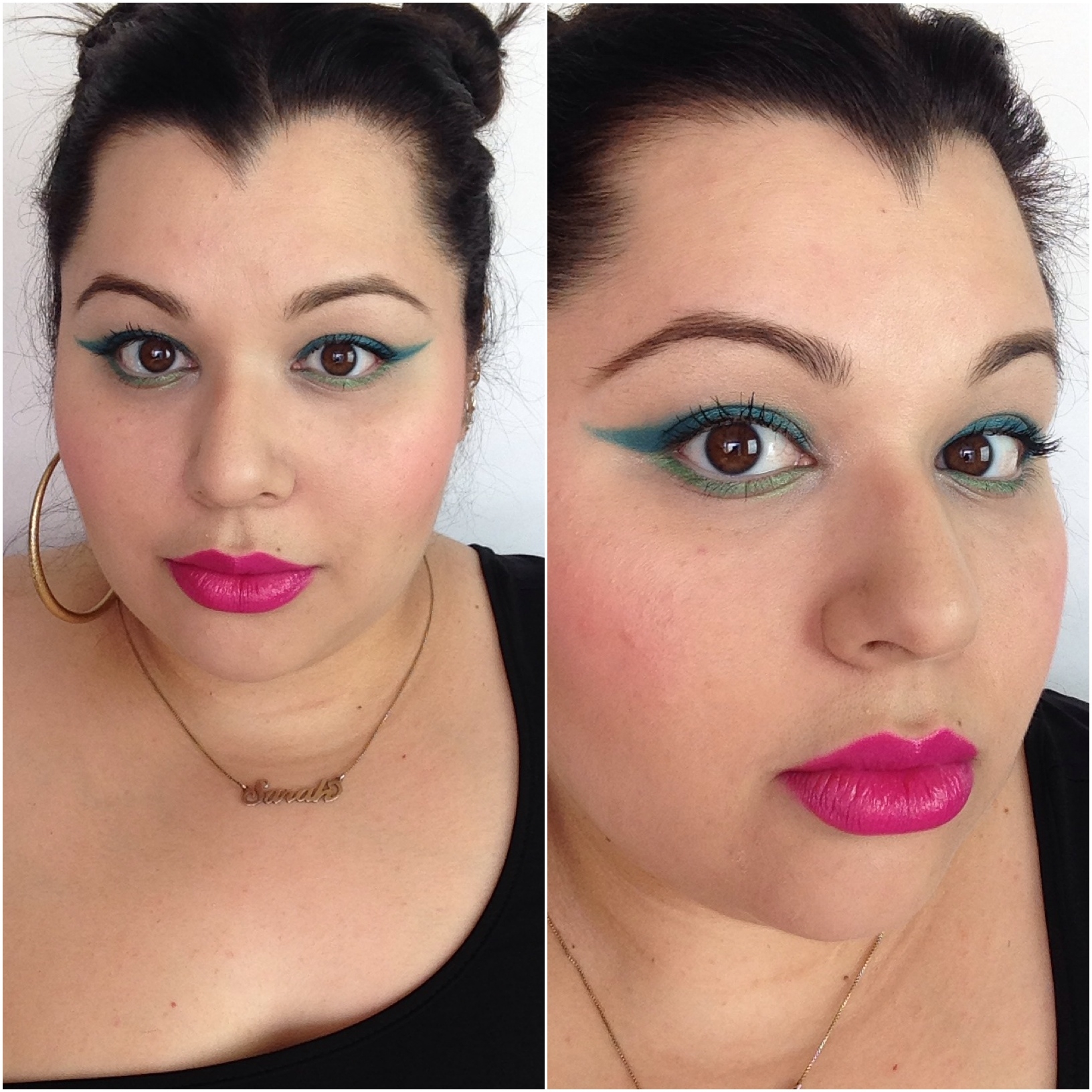 Look Two was the easiest one to work up. I wet my brush with saline solution, and used Fringe as a liner on my top lid, with Freak lining the bottom lash line. I also dabbed Revolt into the corners of my eyes, and used Savage as blush again. Lips are UD's Super-Saturated High Gloss Lip Color pencil in Crush. For some dumb reason, I forgot to take a picture of this one with my eyes closed. It's too late now! We're all just going to have to get on with our lives. I'm not sure how I feel about my mismatched earrings, is it like Janet Jackson, or, is it like a pirate? Is it like pirate Janet Jackson? Is there still such a thing as "the gay ear"? Do I look crazy? I think I like it, but I'm halfway through a bottle of wine right now.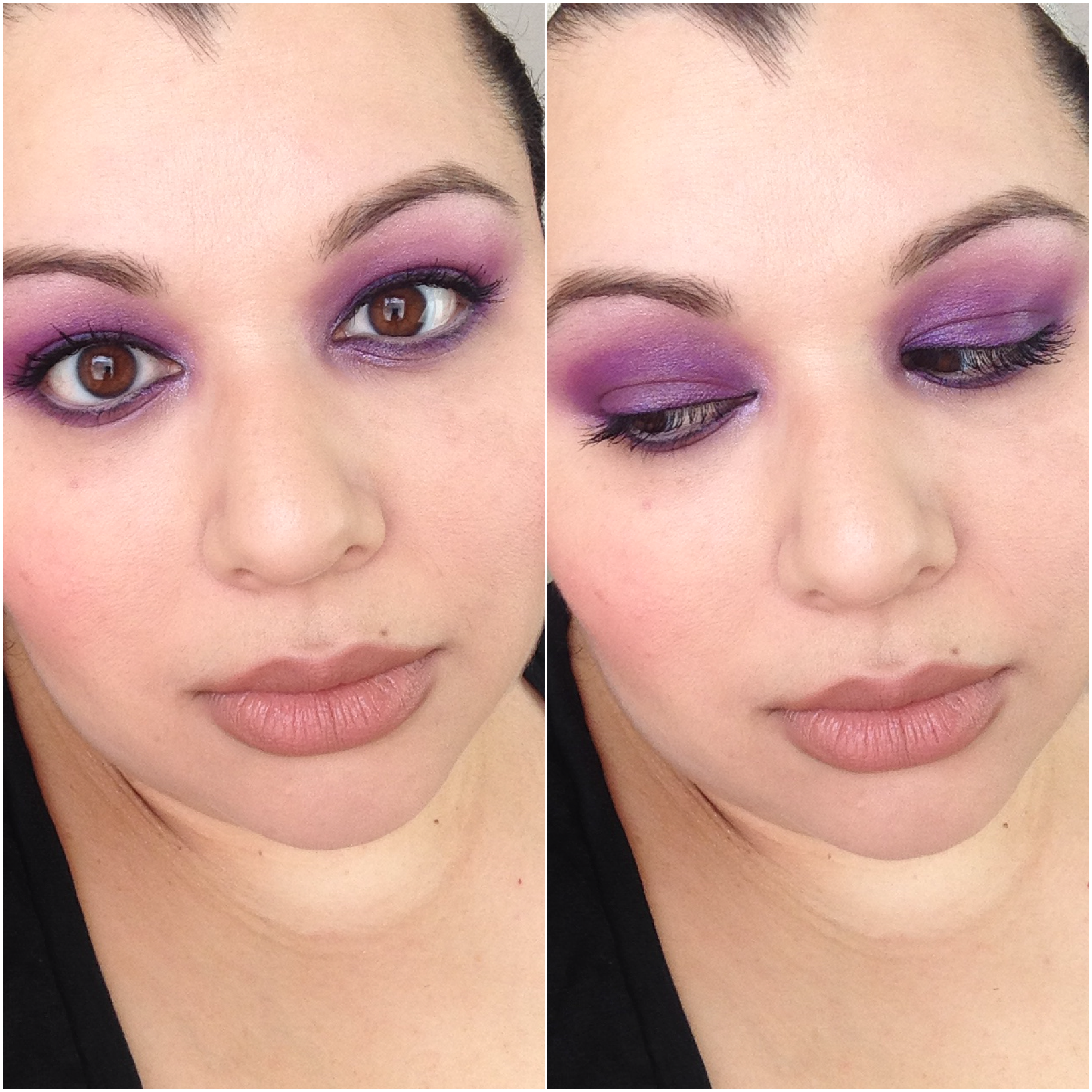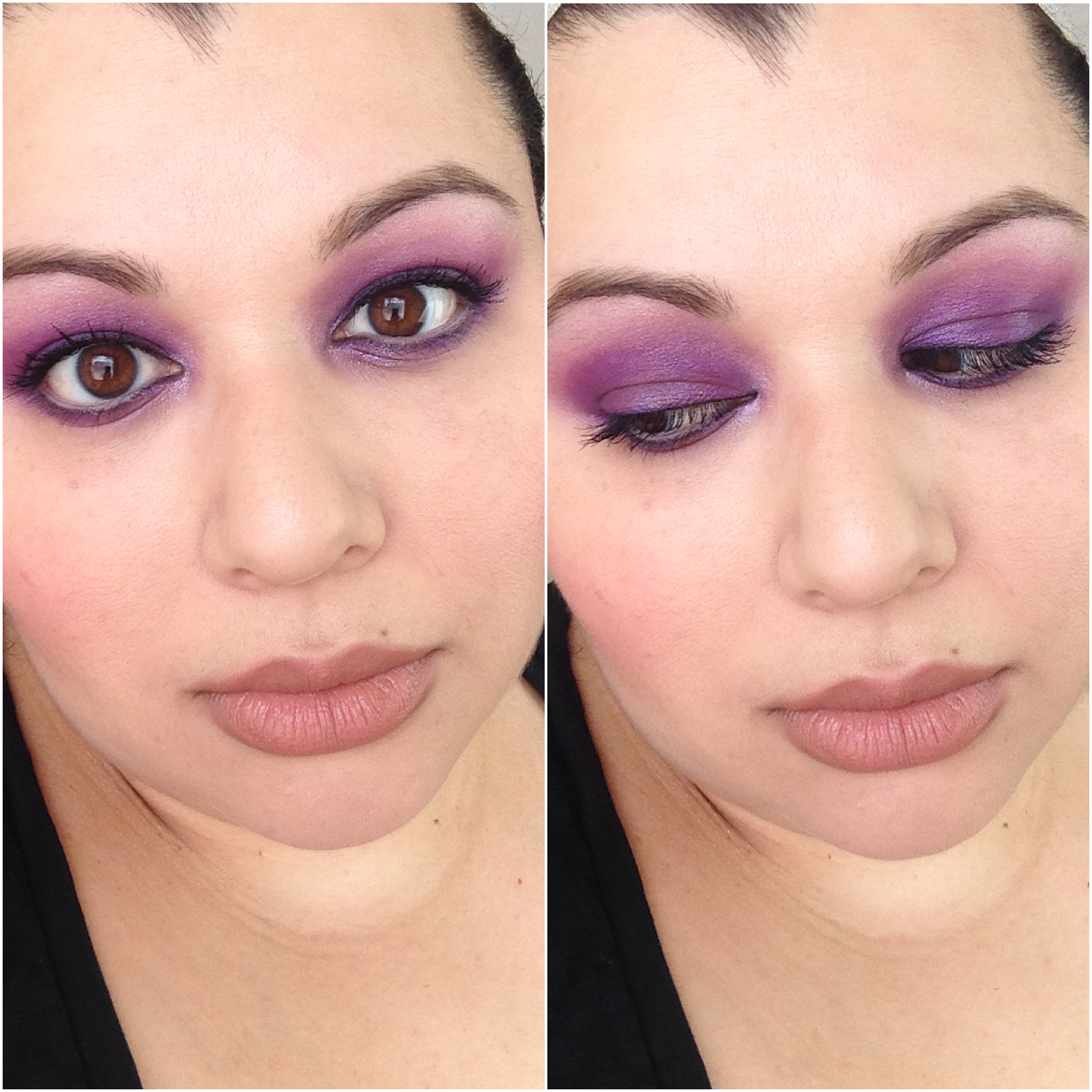 GAZE UPON ME, IT'S ALLOWED. NO EYE CONTACT PLEASE.
I thought that first look was my favorite, and then I did this one. Are you freaking kidding me with this? UD's purples have always been my favorites. It's their signature color, they do it right, and Urban is no exception. For this look, I used the dark pink color, Jilted, in the crease, blended that forever, then added Urban to the lid, and blended THAT forever, too. I lined my top water line and lower lash line with the same black UD pencil, then, I smudged Urban underneath that. Once again, I used Revolt in the corners, and Savage on the cheeks. The lip color is a drugstore nude.
Also….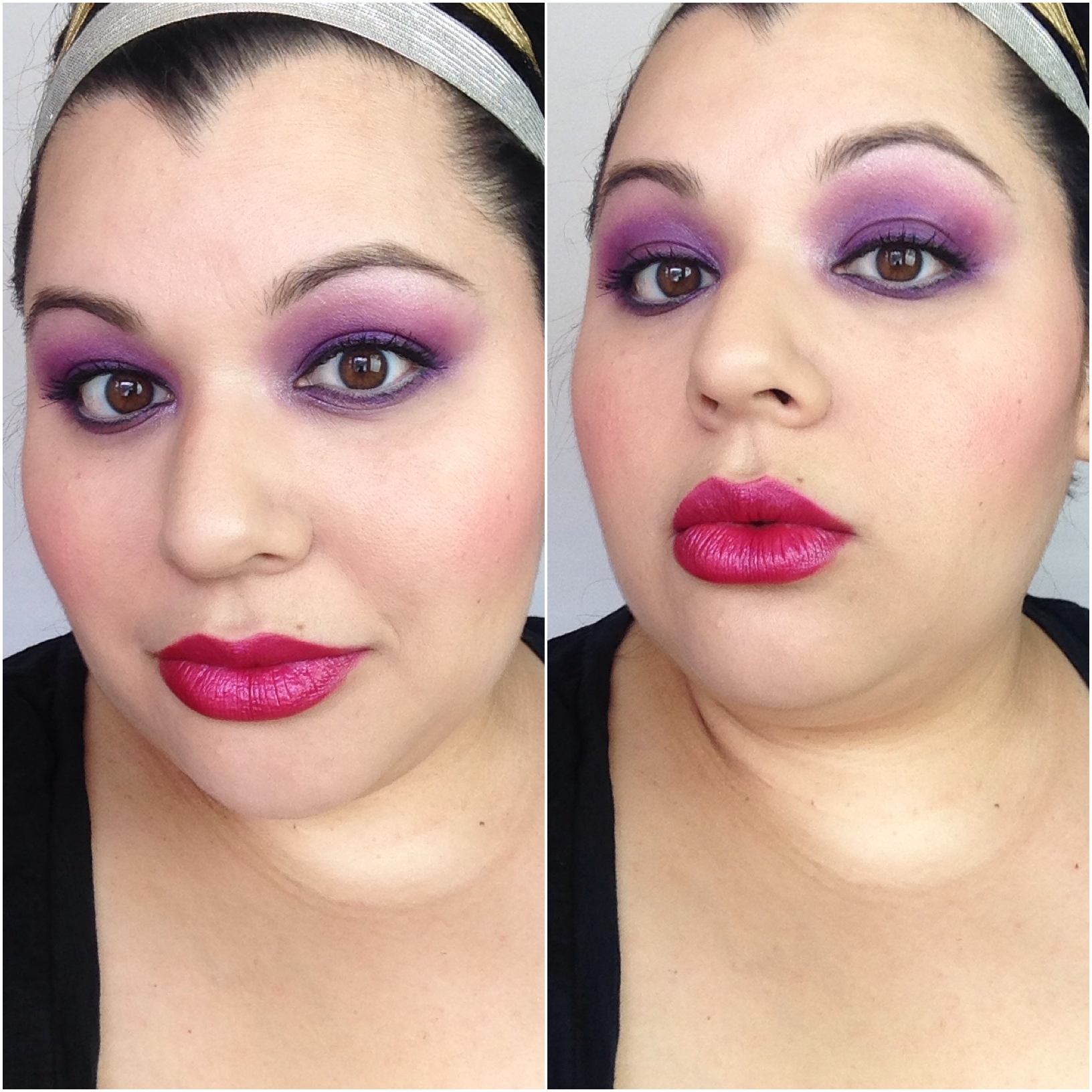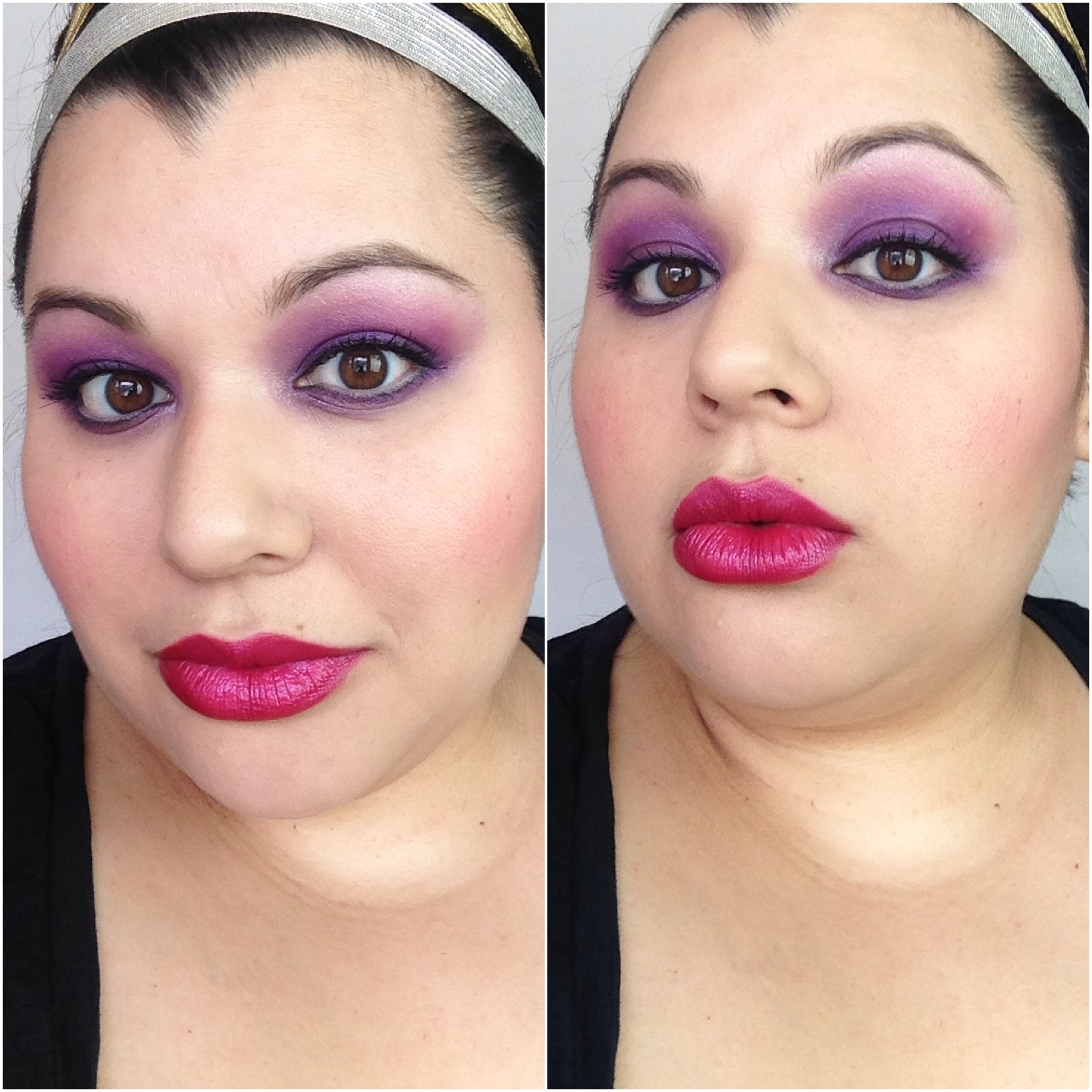 I couldn't resist trying it with my all time favorite UD lip color. Jilted!!!! The addition of this lip color changed the whole look into something way bolder. Which is, like, amazing for a look that already boasts bright purple and dark pink eye makeup.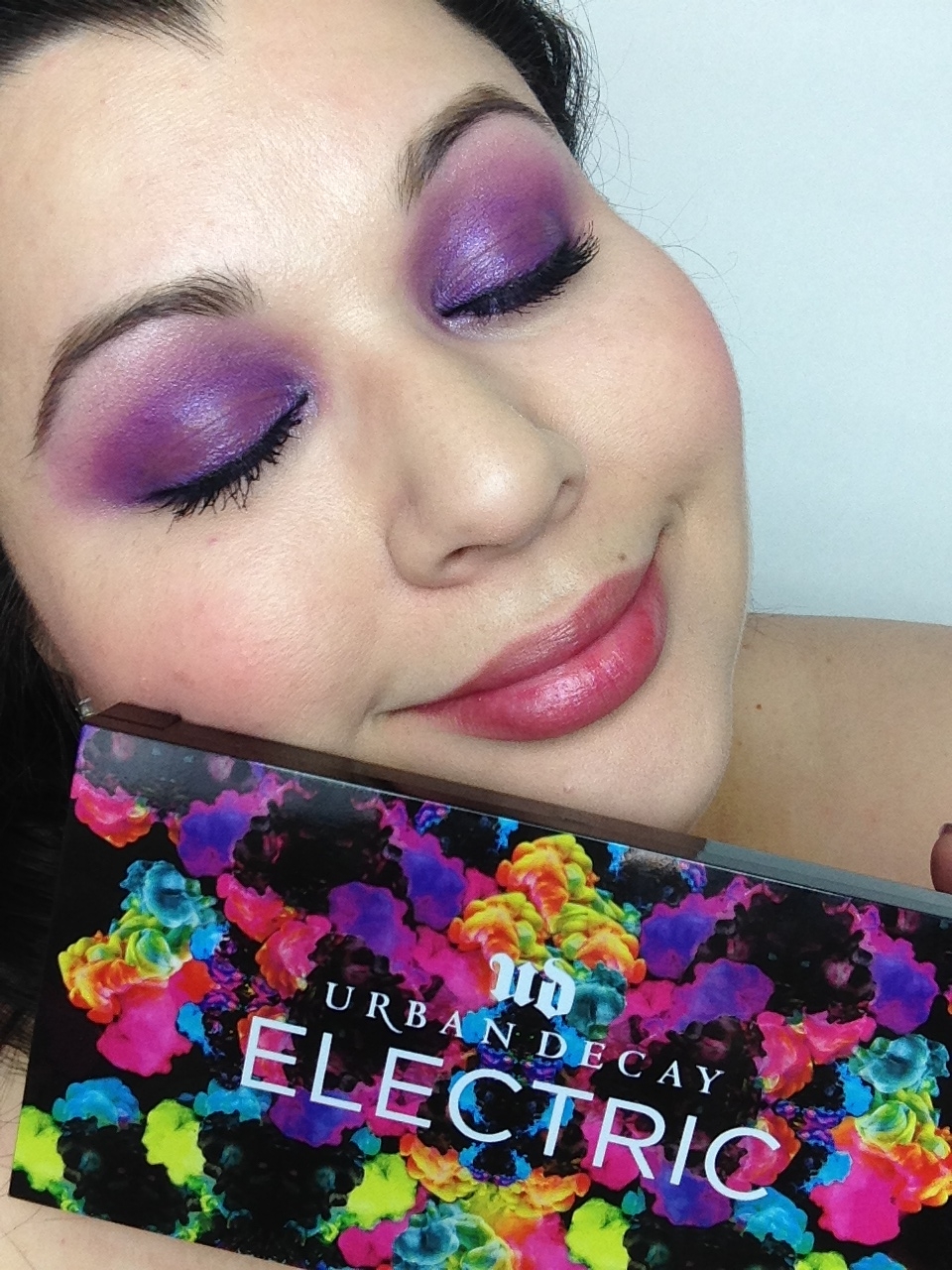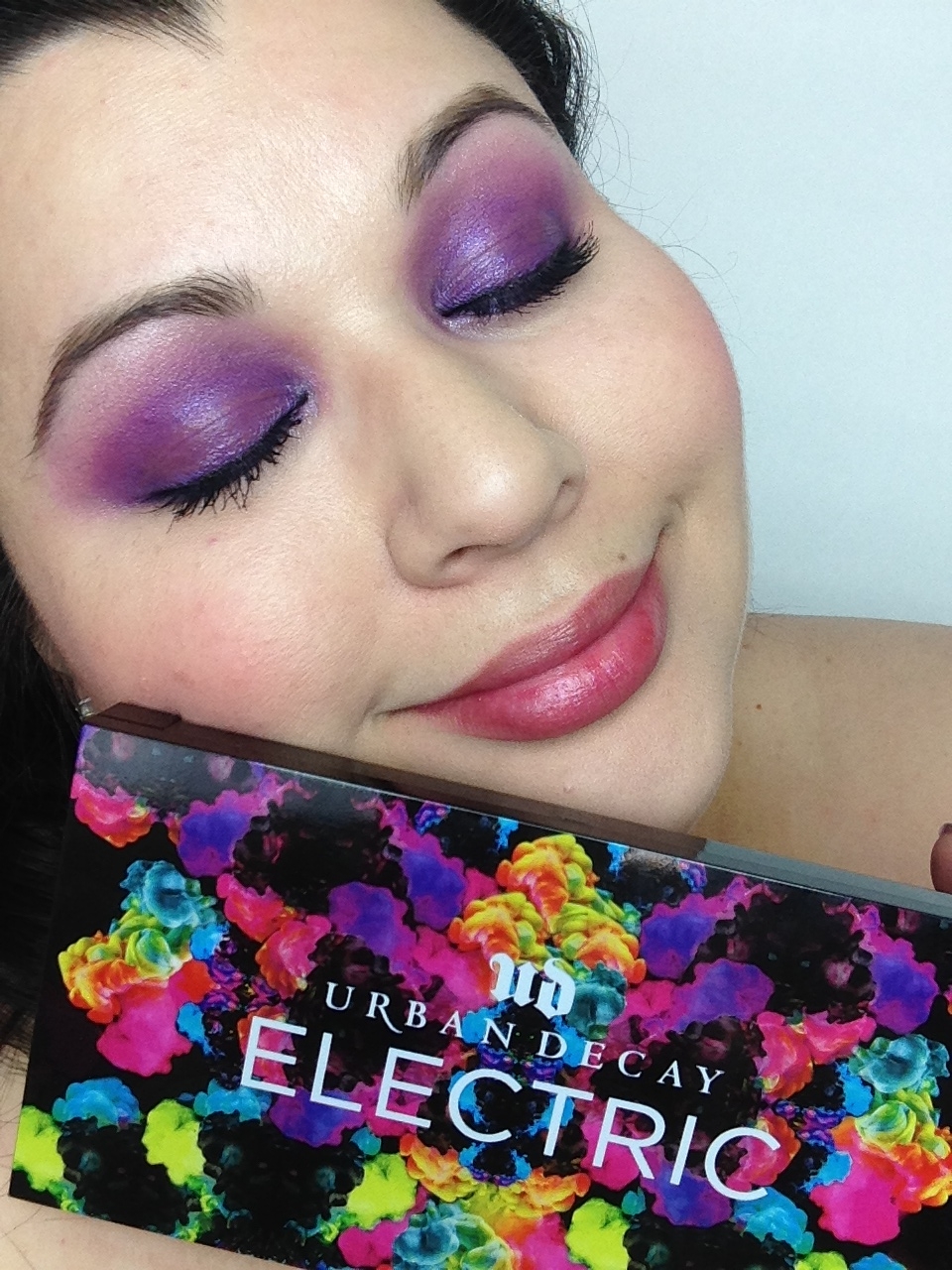 4 EVA
Do you see how we're totally falling in love?
It's my responsibility to inform you that some of these colors aren't "approved" for use around the immediate eye area in the USA. From what I understand, they're cleared in Europe, and that's good enough for me. Just be aware if you have extremely sensitive eyes, I guess.
So far, I have zero complaints about this palette. I'm so happy I bought it! I am looking dope and feeling good. The potency of this palette is so great that I bet nobody even noticed I need to get my eyebrows done. In fact, I bet nobody even noticed I wasn't wearing pants in almost every picture. I am a master of mind control, and this palette has made me more powerful than ever!!!
Buy Urban Decay's Electric Pressed Pigment Palette from UD HERE.