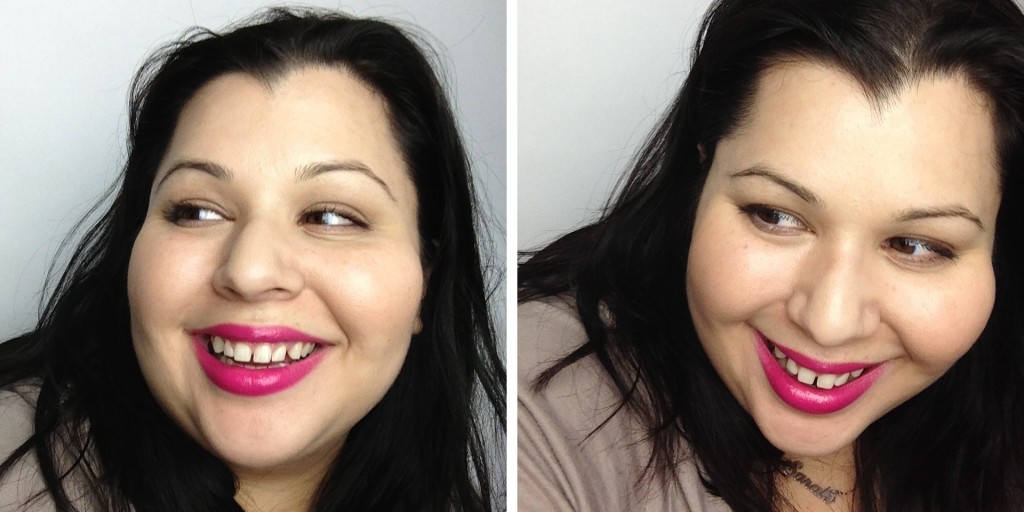 I tried OCC Lip Tar in Pretty Boy ($18), yesterday, and LOOK HOW HAPPY IT MADE ME! This is pretty much one of my very favorite lip colors, in general. Give me the opportunity, and I'll pick a blue based fuchsia 9 times out of 10. I'm drawn to them like they're bearded dudes with forearm tattoos, or chihuahuas with big ears, or my couch.
The couch that's right there, in my line of vision, totally empty, just all alone and sad…
I've been neglecting the couch all week. That's so sad when you're close to someone and you just start to grow apart…
WHOA WHERE WAS I? My mind control is too strong and I just hypnotized myself thinking about the couch while I listened to "Still D.R.E." I got all in a couch/Dre mindfreak. Yikes.
That's like when you find yourself slipping into sleep without any dreams, just darkness, and you snap awake realizing how easy it would be to just die one day.
You guys know what I mean?
WHOA WHERE WAS I AGAIN?
Lip Tar will keep us all together here, back to Lip Tar.
OCC really has a fantastic lip product in these Lip Tars. Pretty Boy is a gorgeous "super rich fuchsia," that looks really great as a satin finish on its own, or so obscenely sexy with a shiny gloss over it. I'm wearing it above with just a quick swipe of my Fresh Sugar Lip Treatment over the top to keep my lips hydrated.
The color stayed on until I removed it myself, so it wore just like I'd expect from this product.
I'm going to go back to Sephora to buy it for my collection.
After I spend some time with my couch, obviously. I don't want to cause some kind of "Cat's in the Cradle" situation between us, I'm not an unfeeling monster.