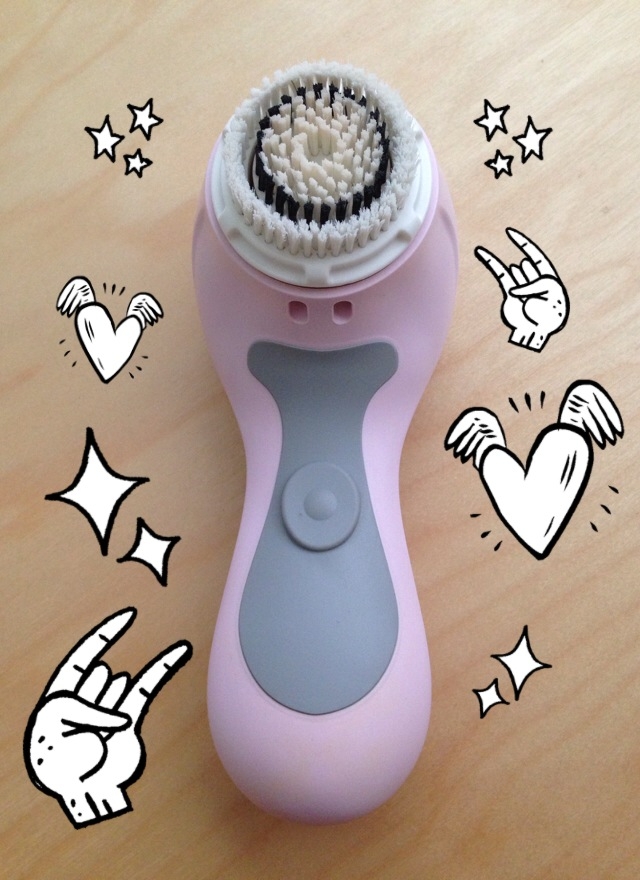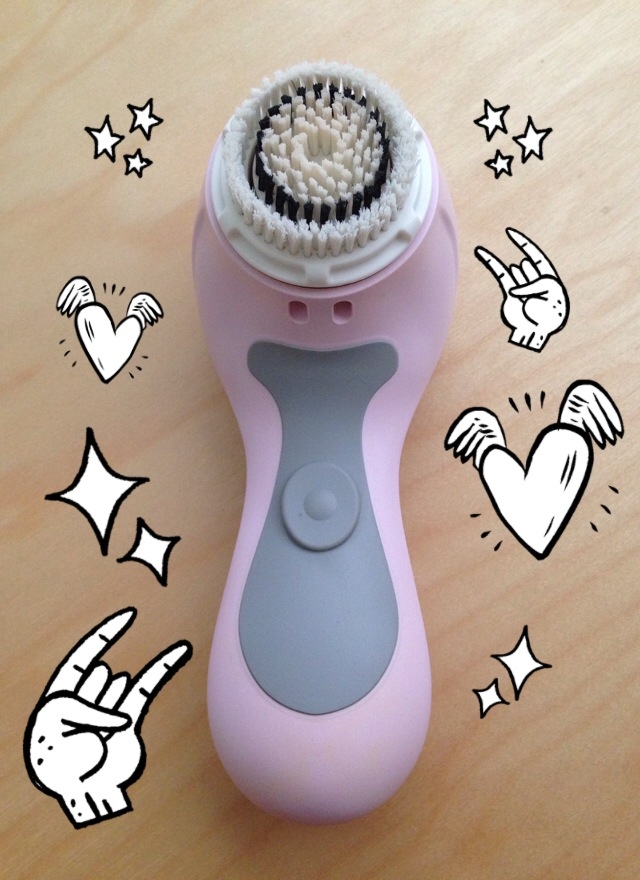 That's my Clarisonic up thurr. It's a beloved member of our household.
I've been putting off doing a post about these because they're pretty expensive, but today is the day! This is why…
Last night, for funsies/research, I sat down and did a full face of makeup. I'm talking FACE BEAT. Foundation, contouring powder, concealer, blush, two different kinds of highlighter, three shadows, my waterproof liquid liner, several coats of mascara, lip liner, lipstick, and a finishing powder. I don't need to tell you it was fucking beautiful. But, I will. It was fucking beautiful. Later, in the shower, I used a cleanser whose specific job is makeup removal. That's its whole schtick. After I rinsed my face, I was suspicious of the results, my face just didn't feel clean, so I took another pass at my skin with my Clarisonic. Would you like to guess what I found?
Tons of makeup on my brush!!! The bristles were tan!
I was properly horrified. I even shook my head in disgust.
BECAUSE I WAS DISGUSTED!
It was at that moment that I decided it was time to do my civic duty, and write my post. So, today, Friday I'm in Love with my Clarisonic!
Like most people probably do, I initially balked at the price. They're costly, there's no way around that. But, last night's experiment was all the validation I needed that mine was worth the money.
I bought my brush after The Great Kiehl's Disaster of 2010. My skin had been destroyed by a beauty experiment gone awry, and I was desperate for answers. I was breaking out a lot, and my face was dull and rough. My cheeks, specifically, were a mess. They felt thick, like scars, and I was afraid I'd done long term damage. I'd gone back to my old skincare routine, and I was exploring more drastic options, treatments, masks, etc. I did some research on the Clarisonic, convinced Jason it was practically a medical necessity, and bought one.
After my first use, there was a difference; my skin was softer and brighter even using my usual cleanser. A week after I got it, my skin showed a lot of improvement. My makeup went on smoother, my moisturizer absorbed better, and my breakouts stopped. It was the first sign of hope that there could be a turnaround on my skin. I can't even begin to describe my relief. I was thisclose to adopting a veil over my face when I left the house like I was Blanket Jackson.
Since then, I've taken on a routine with my Clarisonic. They say it's gentle enough to use twice a day, I think that's overkill. I think using it every day is overkill. I suppose this varies by face, but all my education and real world experience has taught me that it's very rare for anybody to really need to exfoliate every single day. If you decide to get one, you can easily figure out what's too much; just pay attention to your skin. Be careful of any redness or soreness, and adjust accordingly. Someone who wears makeup every day should probably use it more often than someone who doesn't. I don't wear makeup every day, and I know my face doesn't like to be exfoliated every night, so I use my Clarisonic 2-3 times a week. Unless I'm reviewing a product for the site, I always use it before I do masks or treatments. It gets your skin very, very clean, and I always include it when I'm wearing A LOT of makeup.
I don't know how you can justify the price to yourself. If you never get the chance to indulge in spa facials, maybe indulge in a Clarisonic. If you struggle with chronic or frequent skin problems, maybe tell yourself you're upping the game! To be fair, you for sure would be, so it wouldn't be a lie. Or, how about maybe you just want one, you are a GROWN WOMAN, and you deserve it! TREAT YO SELF.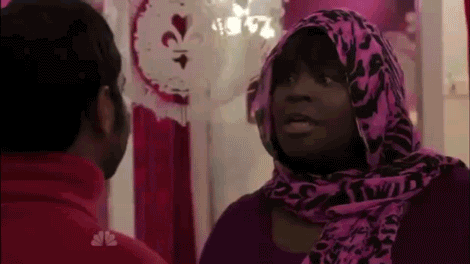 HEY! It's time for people to give you presents, riiiiiiiight? Put it on your list! If you write it there, under "pony," it looks totally reasonable!
Buy your Clarisonic from Sephora HERE.
Or, buy it directly from Clarisonic HERE.
Be wary about buying it from anywhere else, there are a lot of fakes out there. Don't want to spend all that money on a knock off!