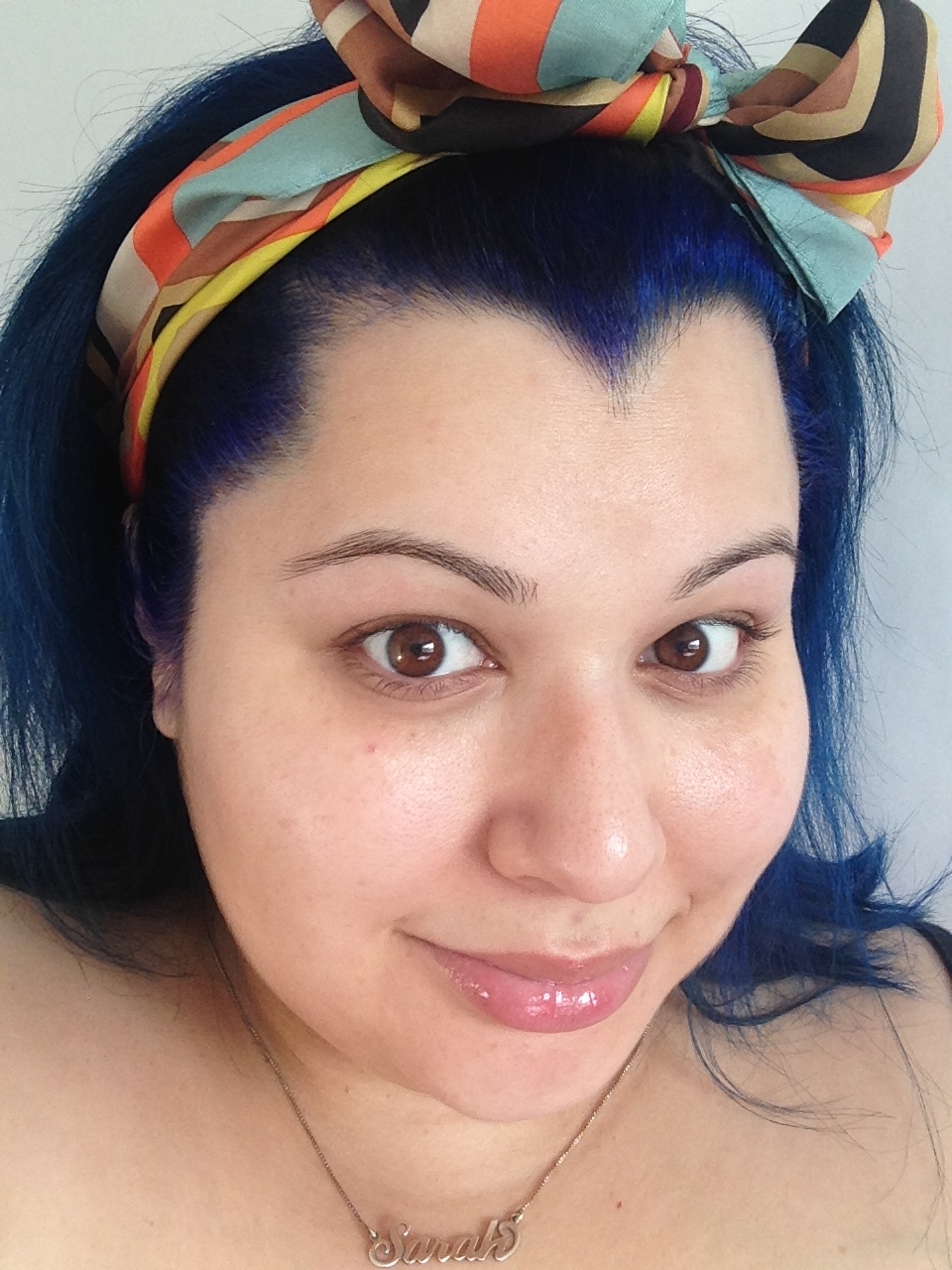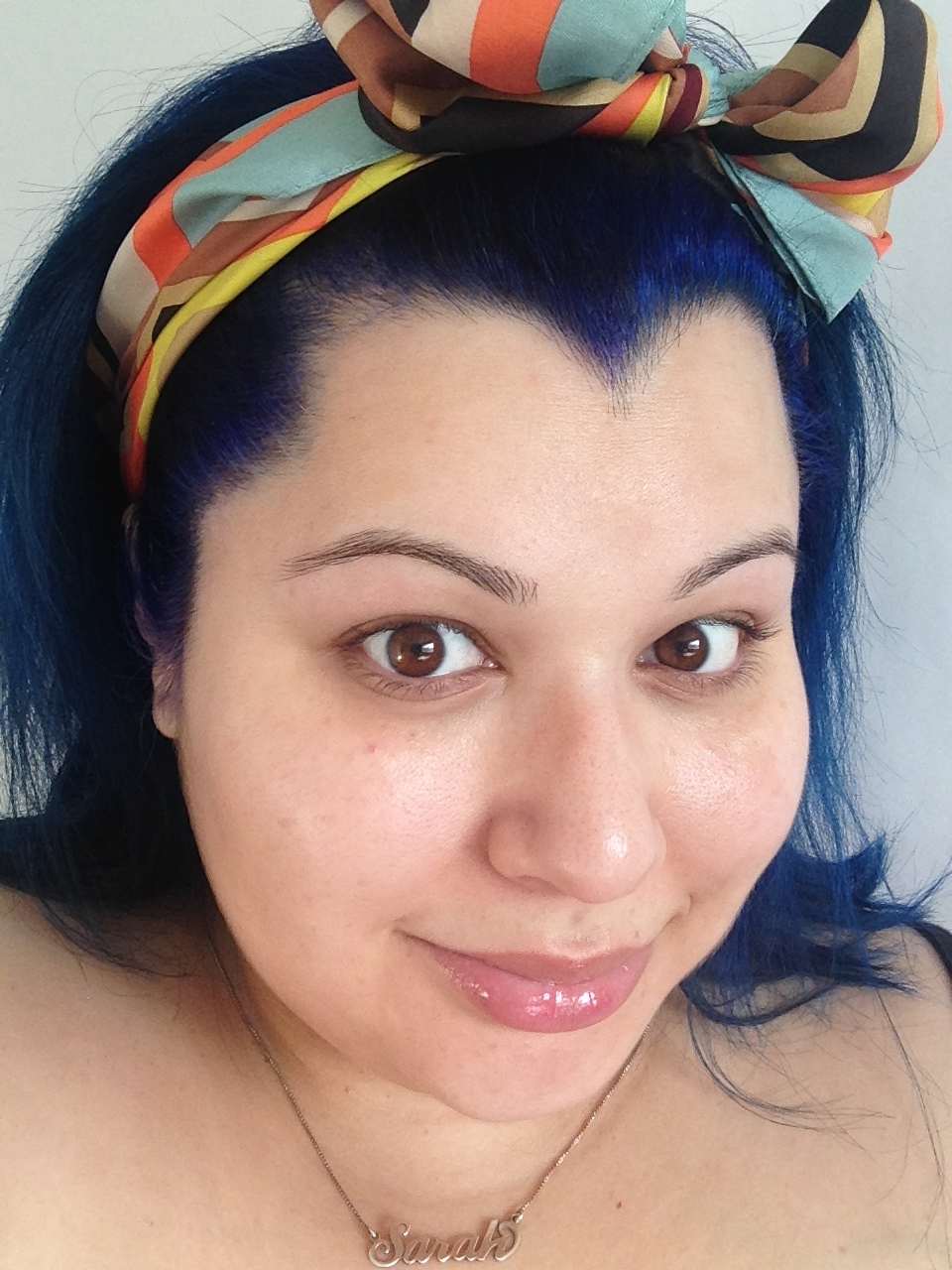 Today's post is going to be all about my current skin care regimen. So, I decided to get right to the point and show you a photo of my makeup free face. There it is. I'm not going to do that thing where I act like I'm super grossed out by my own bare face, because, I'm not. I think I look fine without any makeup on, I just think I look better when I'm wearing mascara.
Right now, I'm pretty happy with my skin. The texture is good, the overall tone is decent. I rarely get blemishes. It's not perfect, as you can see, I have some dark spots. I also have a little bit of redness around my nose, but that could just be hormonal. I *did* have a giant pimple above my top lip, right in the center last week. It literally popped up out of nowhere. I did my makeup, then I got in the car to leave, and suddenly, there was this huge, pulsing zit. It really gave me a lot of trouble, but it's gone now. Unfortunately, it left some scarring/discoloration behind. This is a new thing for me. Over the last year or so, my skin has changed a lot, and I think it's an age thing. My mom has the same problem with scarring and hyperpigmentation when she gets a particularly troublesome blemish. Whatcha gonna do? I just gotta roll with it, and try to find the best products for my changing skin.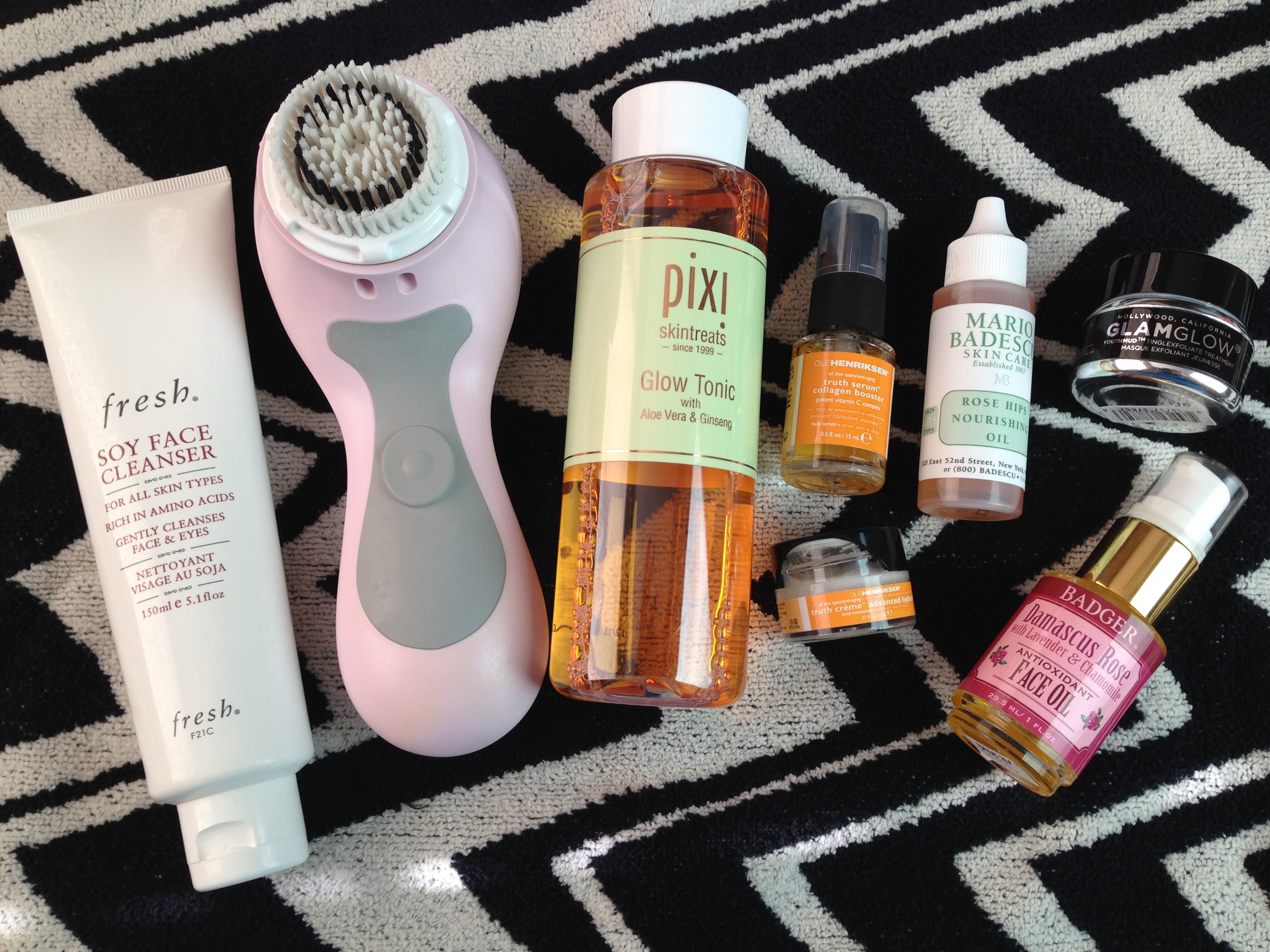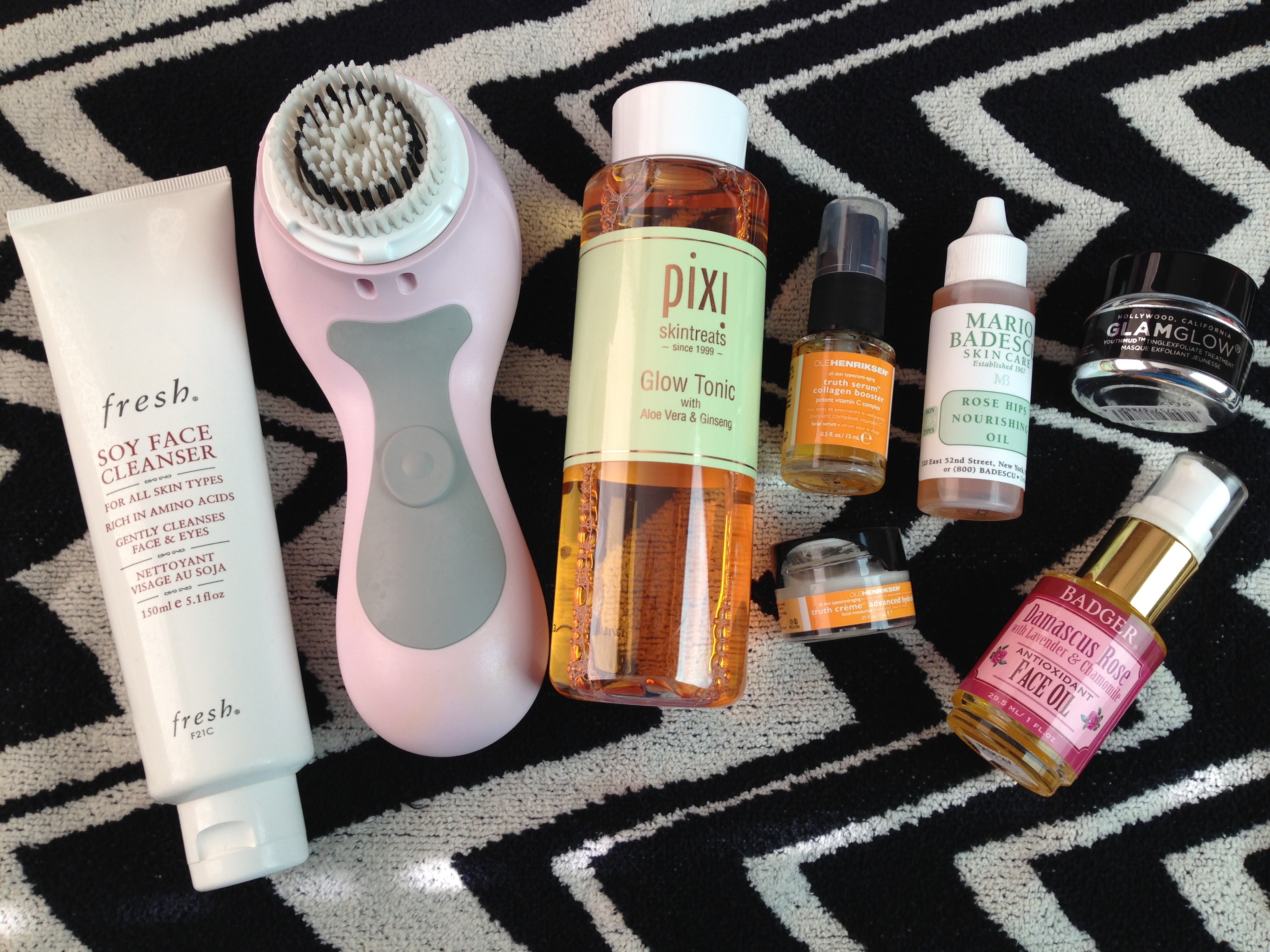 These are the products I'm currently using. As you can see, I'm not into buying an entire skin care system from the same line. I think all of our skin is so different, it can sometimes be best to mix and match. You do have to be careful when you do this though, because some ingredients can interact weirdly, or cancel each other out. Do your due diligence and research that shit! I always read tons of reviews and information before I buy a new skin care product. It doesn't always keep me from making a mistake, but I make them less often. When things go wrong, and they sometimes will, I just pull the new product and go back to what I was doing before. I let my skin settle down, and I try again. It's an ongoing process, but I enjoy it. Also, I really know everyone's return policies.
Let's take a look at my ALL-STARS! LEFT TO RIGHT, Y'ALL!
Fresh Soy Face Cleanser – I did a complete review of this a few months ago, and I am still loving it. It's such a nice, gentle cleanser. It doesn't dry my skin out, and it keeps it clean. I've had this big bottle since June, and although I'm running low, I think I'll make it through the end of this month. So, it's not super cheap, but a little goes a long way. I pretty much only use this once a day, in the evenings. Either with, or without my Clarisonic. Hey, speaking of my Clarisonic…..
MY CLARISONIC! – Remember when I waxed rhapsodic about my Clarisonic? I love this freaking thing so freaking much. I love how it removes allllll my makeup, I love how it keeps my skin so soft, I love how it scrubs all my little face crevices. As far as beauty products go, it's sort of a big ticket item. But, I've said it before, and I'll keep saying it forever, they're totally worth it. I use mine every 2-3 days, and pretty much every time I need to clean off a full face of makeup.
Pixi Glow Tonic – This baby is kind of new to the crew. I've been using it for about a month, and it's been a great addition. It's helped to clear up some rough patches, and my pores have stayed clearer. I use it every night, after I wash my face with my cleanser. I don't wash my face with cleanser in the morning, I rinse with cool water, and then I follow that with this toner.
Ole Henriksen Truth Serum Collagen Booster & Truth Creme – I bought this set as my first shot fired in the war on my aging skin. I haven't been using it long enough to see a difference in my dark spots, but I know I like the other things it's doing. I use the serum first, then follow it with the creme. My skin feels soft and velvety, and it looks plump and bright. I use this system most nights, before bed.
Mario Badescu Rose Hips Nourishing Oil –  I've written about this here before. At first, I thought this product was kind of strange. But, the longer I use it, the more I love it. Although it's an oil, it isn't greasy. It's got sort of a watery consistency, and it just sucks up moisture. It sucks it all up into your skin. I can't get enough of how good this makes my skin feel! It has helped immensely with my dry patches, and my flakiness. I use this, in the morning, on its own; and I use it under my moisturizers and treatment oil.
Badger Damascus Rose Antioxidant Face Oil – This is my treatment oil! I use this on the nights I don't use my Ole Henriksen products, and whenever I feel like my skin needs some deep hydration. It feels nice, the price is right, and it lasts a long time!
Glam Glow Tingling and Exfoliating Mask – I've covered this mask here before, too. After I ran through my initial sample, I bought the small jar during the Sephora Friends & Family sale. I've used it once a week since then, and it has really helped to keep my skin looking clear. I credit this mask for helping to keep my nose pores under control. Those bad boys act up whenever they can. Jerks.
There it is! The system, the systo, the systrain! It's all trial and error, guys. You just keep looking and trying and until you find the products that work for you. It takes time, but it's worth it.